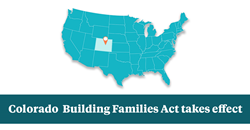 "As the Colorado Building Families Act takes effect, SGF Colorado is excited to work with individuals and couples who now have greater access to fertility and family-building care."
DENVER (PRWEB) January 04, 2023
Shady Grove Fertility Colorado welcomes new patients who now have access to world-class fertility and family-building care through the Colorado Building Families Act.
"As the Colorado Building Families Act takes effect, SGF Colorado is excited to work with individuals and couples who now have greater access to fertility and family-building care," shares Alex Polotsky, M.D., Medical Director at SGF Colorado. "It is an honor walk alongside patients in their family-building journey and this momentous legislation will allow us to help more people achieve their dreams of parenthood."
The Colorado Building Families Act requires large-group insurance plans issued or renewed in Colorado to cover the diagnosis of infertility, treatment for infertility, and fertility preservation services. The new mandate provides for three completed egg retrievals and unlimited embryo transfers, as well as fertility preservation for people with cancer and others at risk of medically induced infertility. The definition of infertility for the new coverage includes the LGBTQ+ community and unpartnered individuals.
"I'm thrilled to see the hard work of RESOLVE: The National Infertility Association and Colorado Fertility Advocates, and so many others, come to fruition to bring Coloradans greater access to family-building care," adds Cassandra Roeca, M.D., SGF Colorado physician and Chair of Colorado Fertility Advocates.
As longtime partners of RESOLVE, SGF physicians are dedicated to increasing access to fertility care and have been involved with state insurance mandates across the country.
To learn more about the Colorado Building Families Act, visit RESOLVE and Colorado Fertility Advocates.
SGF Colorado provides comprehensive fertility and family-building services at its Denver and Colorado Springs locations including:

fertility and ovarian reserve testing and diagnosis,
semen analysis,
hysterosalpingogram (HSG),
low-tech fertility treatment options such as intrauterine insemination (IUI),
in vitro fertilization (IVF),
donor egg, sperm, and embryo,
genetic screening and testing,
gestational carrier,
egg freezing,
fertility preservation for patients with cancer, and
LGBTQ+ family building.
For Coloradans without insurance coverage, SGF Colorado offers innovative financial programs, including a 100%refund guarantee program. SGF was among the first fertility practices to create an IVF program with a refund guarantee, known as the Shared Risk 100% Refund Program. This exclusive program provides patients with the opportunity to pay a fixed amount for up to six fresh IVF or donor egg cycles and any subsequent frozen embryo transfers (FETs). In the event the patient does not take home a baby, SGF provides a full refund. Eighty-two percent of participants take home a baby.
Other popular programs that make treatment at SGF Colorado more affordable include a Shared Help Discount Program, an income-based program that offers a discount on most treatments and procedures, a Military Discount Program, which offers active U.S. military and reservists a discount off qualifying self-pay rates, and a Shared Donor Egg Program, which reduces the cost of donor egg treatment when sharing donated eggs with other patients—an approach that does not lower the chances of conception but significantly lowers the cost.
To schedule an appointment with an SGF Colorado physician, call 720-778-3810, or complete this brief online form.
About Shady Grove Fertility (SGF)
SGF is a leading fertility and IVF center of excellence with more than 100,000 babies born from 30+ years of continuous innovation and patient-centered fertility care. With over 50 locations throughout the U.S. and in Santiago, Chile, SGF accepts most insurance plans and makes fertility treatment accessible and affordable through innovative financial solutions, including 100% refund guarantees. SGF is among the founding partner practices of US Fertility, the largest physician-owned and physician-led partnership of top-tier fertility practices nationally. Call 1-888-761-1967 to schedule a new patient appointment or visit ShadyGroveFertility.com for more information.