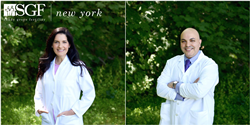 Effective Jan. 2020, NY state extended state-wide infertility treatment insurance mandate to include IVF coverage. This expanded coverage is estimated to include 2.4M New Yorkers. SGF New York applauds these dynamic changes and supports legalization of gestational surrogacy in the state.
NEW YORK (PRWEB) February 14, 2020
For millions of New Yorkers who face infertility, others whose cancer, previous trauma, or genetic disease has affected their reproductive capabilities, and the LGBTQ community who desire to start a family, gestational surrogacy—which involves a woman other than the biological or intended parent carrying the pregnancy—is not just an option, it's the only option to start or grow a family.
While reproductive technology has evolved tremendously over the last several decades, some would argue New York's laws that ban gestational surrogacy have not, and continue to pose a heavy burden on those who need a gestational carrier (GC) in order to become parents.
"New York is arguably one of the most progressive states in the country, and yet does not allow the use of GCs. Therefore, I support passage of the Child-Parent Security Act that would reverse the ban on compensated gestational surrogacy in New York, clarify the legal parentage by the intended parents of the child from birth, and simplify second parent adoptions. While many of the arguments in support of passing such a bill surround the LGBTQ community, we see many heterosexual female patients who require the user of a carrier, as in the case of women with previous traumatic birth, ruptured uterus, different genetic conditions, estrogen sensitive breast cancer, absent uterus (MRKH syndrome), severe renal disease, uterine cancer, post-partum hemorrhage that required a hysterectomy, to name a few. Without lifting this ban, women in each of these situations, and many more, would be forced to travel to a GC-friendly state, and incur additional financial and emotional burden just to have a baby," said Anate Brauer, M.D., Director of IVF, SGF New York in Manhattan.
"I have read the opposition's concerns. I cannot say I don't disagree with the concerns surrounding rights of a gestational surrogate and a slippery slope to a fictional world of uteri for hire. As a woman and a physician, I make it clear to my patients that it is my job to advocate for both my intended parents and GCs. I'm an advocate for all—lesbian, gay, bisexual, transgender, questioning, and straight. But mostly, I am an advocate for women. No matter how a baby is brought into this world, it should be cherished," Brauer adds.
"Throughout our 38 locations, SGF has years of experience working with GCs and intended parents. Our team is committed to providing both parties with the best personalized care in order to help many achieve the dream of parenthood," added Tomer Singer, M.D., MBA, Medical Director, SGF New York in Manhattan.
"Patients with uterine factor such as fibroids, Asherman's syndrome, prior hysterectomy, different genetic diseases, recurrent miscarriages, and certain types of cancer are not able to carry a pregnancy. SGF has exceled in creating programs that allow these patients and others become parents," adds Singer.
Effective January 2020, New York state extended the state-wide infertility treatment insurance mandate to include in vitro fertilization (IVF) coverage. This expanded coverage is estimated to include 2.4 million New Yorkers. SGF New York applauds these dynamic changes for New York state and supports the legalization of gestational surrogacy in the state.
To learn more about New York's family building advocacy efforts, visit RESOLVE. To learn more about the Child-Parent Security Act, Bill A01071C, visit The New York State Assembly.
To schedule a fertility consultation with either Dr. Brauer or Dr. Singer in New York City to discuss your family building options, call 212-203-4826 or submit this brief form. SGF New York's new 15,300 square foot space is conveniently located at 110 East 60th Street—minutes from nine NY subway stations providing easy access from all boroughs as well as Westchester, Long Island, and Connecticut, and steps from Bloomingdales, Rockefeller Center, Central Park, and The Plaza Hotel.
To schedule an appointment at any of SGF's other 37 domestic locations, call the SGF New Patient Center at 888-761-1967.
About Shady Grove Fertility (SGF)
SGF is a leading fertility and IVF center of excellence with more than 85,000 babies born and counting. With 38 locations throughout FL, GA, MD, NY, PA, VA, D.C., and Santiago, Chile, we offer patients individualized care, accept most insurance plans, and make treatment affordable through innovative financial options, including treatment guarantees. More physicians refer their patients to SGF than any other center. Call 1-888-761-1967 or visit ShadyGroveFertility.com.