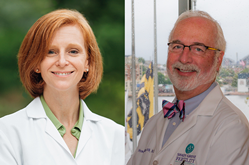 "To the Baltimore community, thank you for trusting me and my fellow physicians to be a part of one of life's most sensitive journeys."
BALTIMORE (PRWEB) November 16, 2020
Shady Grove Fertility (SGF) physicians Stephanie Beall, M.D., Ph.D., and Howard McClamrock, M.D., are recognized as 2020 Top Doctors for infertility in the region by Baltimore magazine. Rounding the corner on its 34th year, the Baltimore Top Doctors honor is bestowed upon by physicians representing dozens of specialties. Physician peers voted and chose Drs. Beall and McClamrock among the estimated 14,000 physicians licensed to practice in the magazine's readership area.
Get to Know Dr. Stephanie Beall
Dr. Beall, who sees patients at SGF's Towson location, was the 29th physician to join SGF back in 2013. She has a keen clinical interest in treating patients with diminished ovarian function and fertility preservation. Dr. Beall is passionate about working with women coping with the stress of infertility, which she has rightfully been recognized for as the recipient of a Compassionate Doctor Award on Vitals.com.
She emphasizes a personalized approach to care, bearing in mind the couple's medical and emotional needs. Dr. Beall seeks to make fertility care accessible for women in the Baltimore region, motivating her to help pass the Maryland fertility preservation bill.
"I'm honored to be recognized by Baltimore magazine as a Top Doctor in the region, and it's my patients who are at the top of my priorities," shares Dr. Beall. "Fertility is a precious gift that's all too often taken for granted until it's hard to obtain or taken away prematurely. For me, it is incredibly satisfying to help build families."
A patient of Dr. Beall's shared, "Shady Grove Fertility was the third reproductive clinic my husband and I went to, and we desperately wish it had been the first! Dr. Beall was fantastic – she always made herself available for questions and concerns and never hesitated to give us her honest opinion…We never felt pressured and always felt as though we were in great hands."
Get to Know Dr. Howard McClamrock
A Baltimore magazine Top Doctor veteran, Dr. McClamrock has made an impression on the state of Maryland's when it comes to advancing reproductive care. Dr. McClamrock was the first reproductive endocrinologist in the state to perform a frozen embryo transfer (FET) that resulted in a live birth. He also co-founded the in vitro fertilization (IVF) program at the University of Maryland along with Dr. Eugene Katz of SGF's Towson office – where he played an integral role in training the next generation of top doctors in reproductive endocrinology.
Dr. McClamrock sees patients at SGF's Baltimore – Harbor East office and specializes in IVF treatment, male-factor infertility, and egg freezing.
Upon receiving the Top Doctor honor, Dr. McClamrock shared, "Part of what makes Shady Grove Fertility a world-class fertility practice is the bond we are able to create with our patients. To the Baltimore community, thank you for trusting me and my fellow physicians to be a part of one of life's most sensitive journeys."
"I cannot thank Dr. McClamrock enough for his kind and compassionate care," expressed a recent patient. "With him I felt a sense of hope that I had not previously felt such that no matter what our outcome…I truly feel blessed to have had the opportunity to be a patient of Shady Grove Fertility's in one of life's most stressful circumstances. Thank you from the bottom of my heart."
A Leader in Reproductive Treatment and Care
SGF extends its congratulations to all physicians who are honored by Baltimore magazine. Additionally, SGF celebrates its referral network of 4,000-strong physicians annually who help make it possible for SGF to fulfill patients' dreams of having a baby.
For people struggling to conceive, it may be time to consult a fertility specialist. Contact the SGF New Patient Center at 1-888-761-1967 or complete a brief online request form to schedule a virtual consult with an SGF physician. A virtual physician consult is the first step toward pursuing a pregnancy with the help of SGF.
About Shady Grove Fertility (SGF)
SGF is a leading fertility and IVF center of excellence with more than 85,000 babies born and 5,000+ 5-star patient reviews. With 37 locations throughout FL, GA, MD, NY, PA, VA, D.C., and Santiago, Chile, we offer patients virtual physician consults, deliver individualized care, accept most insurance plans, and make treatment affordable through innovative financial options, including 100% refund guarantees. More physicians refer their patients to SGF than any other center. Call 1-888-761-1967 or visit ShadyGroveFertility.com.