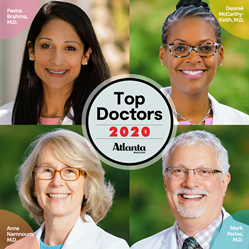 ATLANTA (PRWEB) August 05, 2020
Shady Grove Fertility (SGF) Atlanta is proud to announce that all four of their physicians Drs. Desireé McCarthy-Keith, Anne Namnoum, Mark Perloe and Pavna Brahma have been named Atlanta Magazine's Top Docs for Infertility. This recognition is voted on by physician peers in various fields of medicine. As leaders in reproductive medicine, SGF Atlanta physicians are committed to providing exceptional fertility care at a practice that remains at the forefront of cutting-edge reproductive technology.
The top doctors list is compiled by Castle Connolly Medical Ltd, which guides consumers to America's top doctors and top hospitals. Castle Connolly's established nomination survey, research, screening, and selection process, under the direction of a physician, involves many hundreds of thousands of physicians as well as academic medical centers, specialty hospitals, and regional and community hospitals all across the nation. Castle Connolly's physician-led team of researchers follows a rigorous screening process to select top doctors on both the national and regional levels. Careful screening of doctors' educational and professional experience is essential before final selection is made among those physicians most highly regarded by their peers.
"I am truly humbled and honored to have earned the trust of such an esteemed group of physician peers and to have become a trusted resource to help others start or grow their family," said Desireé McCarthy-Keith, M.D., M.P.H.
"SGF Atlanta delivers the very best in personalized patient care, and I'm proud to be able to help so many achieve the family they've always dreamed of," said Anne Namnoum, M.D.
"It's an honor to be recognized among such a distinguished group of physicians," said Mark Perloe, M.D.
"I am humbled each day by the opportunity to help patients realize their dreams of parenthood. I am honored to be recognized among my colleagues and physician peers," said Pavna Brahma, M.D.
SGF Atlanta currently has four locations in Atlanta-Northside, Alpharetta, Buckhead, and Marietta, and four physicians, with growth on the horizon.
To learn more or to schedule a virtual consultation with an SGF physician, call 1-888-761-1967.
About Shady Grove Fertility (SGF)
SGF is a leading fertility and IVF center of excellence with more than 85,000 babies born and counting. With 38 locations throughout FL, GA, MD, NY, PA, VA, D.C., and Santiago, Chile, we offer patients virtual physician consults, individualized care, accept most insurance plans, and make treatment affordable through innovative financial options, including treatment guarantees. More physicians refer their patients to SGF than any other center. Call 1-888-761-1967 or visit ShadyGroveFertility.com.