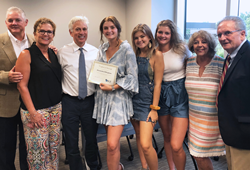 SGF is honored to play a role in helping bring 85,000 babies into this world. And we are excited to see what the future holds for our accomplished scholarship recipients Hannah Ward, Alexandra Dillingham, and others to come.
WASHINGTON (PRWEB) August 30, 2019
Shady Grove Fertility (SGF) has announced the recipients of its first-ever SGF Scholarship fund. Hannah Ward and Alexandra Dillingham have been selected to receive scholarships of $5,000 each.
Both Ms. Ward and Ms. Dillingham's applications were selected by an SGF Scholarship Committee based not only on their outstanding academic performance but also for exhibiting strong moral character that exemplifies SGF's core values of compassion, excellence, and integrity.
"Shady Grove Fertility was founded on a patient-centric model, which at its core was articulated simply by our co-founders, Drs. Michael J. Levy and Arthur Sagoskin: always do what is best for the patient. Now, nearly 30 years and 85,000 babies later, we are proud to once again do something to benefit our patient community," shared Mark Segal, Chief Executive Officer (CEO) of SGF.
Twenty years ago, the Ward and Dillingham families were having parallel lives, each with one child and the desire to have more. After trying on their own for many years, the Ward family turned to SGF's Art Sagoskin, M.D., and the Dillinghams sought help from Michael Edelstein, M.D. Both couples struggled with the reality of secondary infertility as well as the stigma of not being able to conceive without help.
"Treatment was hard emotionally because no one talked about infertility during the 90s. You'd see the words 'test tube babies' splashed across the news, so I was hesitant to tell our friends and family we were going through IVF. I didn't know anyone at the time that had infertility, but I stayed strong because I knew I wanted more children," says Mary Ward, Hannah's mother and former SGF patient.
Today, the one in eight couples who experience infertility are breaking through that stigma and have access to larger support networks such as SGF's support groups and social community, which is 40,000+ members strong.
"As a fertility patient you never forget the time spent, the connections you made, the bonds you shared with your physician and their entire team during your fertility journey. Your experience is permanently in your heart and forever stored in your memory. You are reminded often when you look at your child. As a large practice such as SGF seeing thousands of patients a year, one can understand how patients move on and memories of them fade; however, I applaud SGF for not wanting to forget. Their idea for a scholarship showcasing former patients and their children is special and unique," shared Lynn Dillingham, Alexandra's mother and former SGF patient.
"As a parent you hope to build a strong, lasting foundation for your children to build upon—a foundation built on faith, kindness, integrity, drive, and strength. Seeing my daughter selected and recognized for her values, was truly an honor," added Lynn.
Fortunately, both families were successful in their treatment, each conceiving twins.
"Dr. Edelstein gave us the spark that provided us encouragement and hope," said Lynn. "He was extremely supportive through such a difficult time. We could not have made it through our journey without him. His concern for me and for my husband was extraordinary. He made us feel at ease and helped us gain confidence in an otherwise helpless time in our lives. We had complete trust in him from the very beginning. He is not only a remarkable physician he is a special person," added Lynn.
"Back then, we never imagined the growth of our practice would reach these heights, but we surrounded ourselves with phenomenal, compassionate, innovative people who became a part of our culture, and who chose to make a positive impact on our patient community. The patients who we treated many years ago are now facing another milestone, sending their children to college. It is our honor to help give back to these families who trusted us and believed in the power of what's possible," said Dr. Sagoskin.
"SGF is honored to play a role in helping bring 85,000 babies into this world. And we are excited to see what the future holds for our accomplished scholarship recipients Hannah Ward, Alexandra Dillingham, and others to come," said Segal.
About Shady Grove Fertility (SGF)
SGF is a leading fertility and IVF center of excellence with more than 85,000 babies born and counting. With 36 locations throughout FL, GA, MD, NY, PA, VA, D.C., and Santiago, Chile, we offer patients individualized care, accept most insurance plans, and make treatment affordable through innovative financial options, including treatment guarantees. More physicians refer their patients to SGF than any other center. Call 1-888-761-1967 or visit ShadyGroveFertility.com.