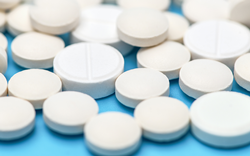 SGF remains at the forefront of reproductive medicine research to advance treatment options and optimize pregnancy rates.
WASHINGTON, D.C. (PRWEB) October 15, 2019
One of the only private fertility centers in the nation to employ a full-time, dedicated research team, Shady Grove Fertility (SGF) presented new research during this year's premier education and research meeting for reproductive medicine, the American Society for Reproductive Medicine's 2019 Scientific Congress and Expo in Philadelphia, PA. The research evaluated the optimal oral medication type (letrozole compared to clomiphene citrate, or clomid) and dose in controlled ovarian hyperstimulation/intrauterine insemination (COH / IUI) cycles to increase clinical pregnancy rates (CPR) while lowering risk of multiple gestation, i.e., twins or triplets.
The data suggested that in ovulatory women, a starting dose of 50mg of clomid provides a greater chance of a singleton gestation than a higher starting dose. Simply put, more medication doesn't always mean better success rates, and a higher dose increases a woman's risk of multiples.
Further, in the overall population, clinical pregnancy rates were comparable between patients who received letrozole and women given clomid. However, in women who are anovulatory (do not ovulate) specifically, there was a lower chance of a multiple pregnancy when given letrozole compared to clomid. In women who are ovulatory, neither medication showed a higher risk of multiples or a higher clinical pregnancy rate than the other.
"To maximize clinical pregnancy rates while minimizing the chance of multiples in oral ovulation induction/intrauterine insemination cycles, medication and dose should be chosen carefully. Our research sheds an important light on this popular treatment approach, making it safer for women by lowering their chances of high-risk, multiple gestation pregnancies while optimizing pregnancy rates," said Kate Devine, M.D., Director of Research at SGF and board certified reproductive endocrinologist, who sees patients in SGF's Washington, D.C., K Street location.
This retrospective study evaluated 8,911 patients who underwent 15,453 oral ovulation induction-IUI (OI-IUI) cycles from 2004-2018 at SGF.
SGF believes in a stepped-care approach to treatment starting with the least invasive treatments first and then only moving on to more advanced treatment options if necessary. In fact, nearly 50 percent of treatments at SGF are considered low-tech and less invasive.
"Our practice is committed to providing personalized fertility care to each and every patient, always balancing chances of success with the simplicity and safety of the procedure," adds Devine. "By practicing only evidence-based medicine through years of research, we've been able to improve treatment options available and improve the success rates we're able to offer."
For the past 28 years, the physicians at SGF have placed a high value on conducting clinical research, which is why they employ a full-time dedicated research staff under the direction of Dr. Devine. The practice remains at the forefront of reproductive medicine by constantly improving protocols and methodologies and seeking better, safer, and more efficient ways of helping patients overcome infertility.
"It is one of the core values of our practice to constantly refine treatment protocols and understand treatment outcomes so that we can help more people achieve the goal of a successful pregnancy," says Devine.
To learn more about ongoing research being conducted at SGF, visit http://www.shadygrovefertility.com/research
About Shady Grove Fertility (SGF)
SGF is a leading fertility and IVF center of excellence with more than 85,000 babies born and counting. With 36 locations throughout FL, GA, MD, NY, PA, VA, D.C., and Santiago, Chile, we offer patients individualized care, accept most insurance plans, and make treatment affordable through innovative financial options, including treatment guarantees. More physicians refer their patients to SGF than any other center. Call 1-888-761-1967 or visit ShadyGroveFertility.com.