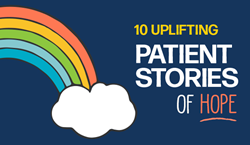 Many people come to Shady Grove Fertility looking for answers. While myths persist that women with PCOS cannot get pregnant, the reality is that it is highly treatable and nearly every woman with PCOS should be able to get pregnant.
WASHINGTON (PRWEB) February 28, 2020
"Patient Stories of Hope" is a collection of personal stories written by SGF patients that provide an honest and heartwarming look into the trials and triumphs patients face in their pursuit to building a family. Each story provides a different and revealing perspective and is meant to serve as a source of strength, hope, and inspiration to those still on the path to parenthood.
After recurrent miscarriages, one SGF patient recalls learning about SGF from a friend, "It did not matter the distance we had to drive—almost 10 hours in one direction—we knew we were doing the right thing. In our first encounter [with SGF] we knew it was the best decision we could have taken. Love, compassion, attention, everything we could ever expect—and more—was provided to us," recalls Andreia, who chose SGF's 100% refund guarantee program to help build their family.
After premature menopause stopped her cycles at a young age, this anonymous couple experienced deep sadness and started to lose hope. While in the process of grieving and coming to terms with this reality, they learned about embryo donation at SGF, something they had never heard of before. It brought them the child they had long hoped for.
"Our daughter has a unique story of incredible, amazing, selfless love! We feel that SGF's Donor Embryo Program is a 'win-win' situation. The donors who fought to hard and long are happy that they remaining embryos can be donated, thawed and have the chance of being born. My husband and I, who tried for so long to get pregnant, received that amazing gift," recalls one SGF patient.
Jennifer and Tara, a same-sex couple, recalled, "We began this journey with an idea of how to choose a donor, but SGF actually gave us more resources than we had expected. The provided Jennifer and I with several different options on where to receive donor sperm and helped us understand some of the medical and genetic screenings that were important in selecting a donor."
"We welcomed our sweet boy Henry into the world. Our family is now complete thanks to the inclusive care and support from Shady Grove Fertility," Tara added.
SGF patients Meghan and Joshua shared how devastated they were to hear from a previous doctor that there was 'no way' Meghan would be able to get pregnant with polycystic ovary syndrome (PCOS). And if she did, she was told it would likely be an unsafe pregnancy. Thankfully, the couple stayed persistent and sought a second opinion elsewhere, and then finally a third opinion at SGF. "I now have a beautiful baby girl and I cannot express how grateful I am to everyone at SGF who helped my husband and me throughout our journey. Having my daughter and finally becoming a mother is nothing short of a miracle and the answer to an infinite amount of prayer," Meghan recalls.
Many people come to Shady Grove Fertility looking for answers. Affecting nearly one-third of all infertility diagnoses, PCOS is the most common ovulatory disorder in women of reproductive age. However, while myths persist that women with PCOS cannot get pregnant, the reality is that it is highly treatable and nearly every woman with PCOS should be able to get pregnant.
When SGF first opened its doors in 1991, one Shady Grove Fertility baby was born approximately every 20 days. Today, more than 12 SGF babies are born each day, every day. This ebook and their newest 'Better Approach' campaign hopefully serves as a reminder that there are now treatments available to help almost everyone conceive.
What is a 'Better Approach'? SGF believes it is arming people with knowledge about their reproductive systems, raising awareness that infertility is a real disease that affects both men and women equally, and encouraging people to seek help from a specialist sooner than later so they can make informed decisions about their care and make progress toward their dream of parenthood.
Click to access SGF's free "Patient Stories of Hope" ebook.
To learn more about SGF's 'better approach,' schedule a consultation with an SGF physician by calling 1-888-761-1967 or fill out this brief form.
About Shady Grove Fertility (SGF)
SGF is a leading fertility and IVF center of excellence with more than 85,000 babies born and counting. With 38 locations throughout FL, GA, MD, NY, PA, VA, D.C., and Santiago, Chile, we offer patients individualized care, accept most insurance plans, and make treatment affordable through innovative financial options, including treatment guarantees. More physicians refer their patients to SGF than any other center. Call 1-888-761-1967 or visit ShadyGroveFertility.com.