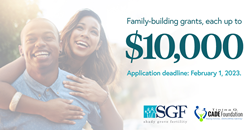 We're proud to partner with SGF for an incredible opportunity to help families overcome infertility."
ROCKVILLE, Md. (PRWEB) January 25, 2023
Shady Grove Fertility (SGF), in partnership with the Tinina Q. Cade Foundation, encourages families affected by infertility to apply for the Spring 2023 family-building grants of up to $10,000 each by February 1, 2023. The Cade Foundation offers three grants:

"We're proud to partner with SGF for an incredible opportunity to help families overcome infertility," shares Camille Hammond, M.D., M.P.H, and CEO of the Cade Foundation.
All SGF patients who apply for the two SGF grants will also be automatically entered into the Cade Foundation Family Building Grant pool at no charge.
To qualify for the grants, applicants must be diagnosed with infertility by a doctor and be a permanent resident or U.S. citizen.
Only one registration is required per applicant regardless of whether the applicant is an individual or a couple.
Applicants will be notified by email about funding decisions by June 1, 2023, followed by a formal celebration at the Cade Foundation Family Building Gala in November.
To apply for these grants, please submit an application for the Cade Foundation Family Building Grant. To make a contribution in support of these grants, please visit the Cade Foundation.
To learn more about overcoming infertility, contact the SGF New Patient Center at 1-888-761-1967 or complete a brief online request form to schedule a fertility consult with an SGF physician.
About Shady Grove Fertility (SGF)
SGF is a leading fertility and IVF center of excellence with more than 100,000 babies born from 30+ years of continuous innovation and patient-centered fertility care. With over 50 locations throughout the U.S. and in Santiago, Chile, SGF accepts most insurance plans and makes fertility treatment accessible and affordable through innovative financial solutions, including 100% refund guarantees. SGF is among the founding partner practices of US Fertility, the largest physician-owned and physician-led partnership of top-tier fertility practices nationally. Call 1-888-761-1967 to schedule a new patient appointment or visit ShadyGroveFertility.com for more information.