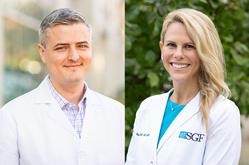 If you're coping with the challenges of conceiving or sustaining a pregnancy, you're not alone – one in eight couples share in this common experience.
ROCKVILLE, Md. (PRWEB) October 09, 2020
Shady Grove Fertility (SGF) is committed to working hand-in-hand with patients who dream of having a baby yet are facing infertility hurdles. While SGF prioritizes informing patients of their treatment options, it is equally important to offer full transparency on how dreams come with a financial planning perspective. In October, SGF will offer five, free virtual events for attendees seeking knowledge on a mix of topics including first steps toward fertility, financial planning, what your menstrual cycle can mean, and IVF.
"If you're coping with the challenges of conceiving or sustaining a pregnancy, you're not alone – one in eight couples share in this common experience," says Dr. Matthew Connell, who will host a Getting Started webinar followed by a live Q&A on Tuesday, October 13 at 4 pm. "Rest assured knowing that SGF offers stepped-approach treatments to help almost anyone conceive."
Upon learning about the first steps you'll take to get started on your journey, you may wonder about how to pay for treatment. On Wednesday, October 21 at 3 pm, Jennifer Cockburn from SGF's Patient Financial Services Team will host a Financial Options webinar to help viewers navigate insurance plans with additional assistance from SGF's unique financial programs, like their exclusive 100% refund programs for IVF and donor egg treatment. However, it is important to understand when it is the right time to seek fertility treatment.
"I recommend trying to conceive for 6 months to a year before contacting a specialist, but there are instances where we'd like to get you in the door sooner," says Dr. Valerie Libby from SGF's Atlanta-Northside office who will host What Your Menstrual Cycle Says about Your Fertility webinar on October 22 at 4 pm. "Many women don't know what's considered a normal menstrual cycle and what's not. Either way, your period can provide really important information about your overall ability to conceive."
Dr. Libby will review the basics of menstruation and ovulation, irregular vs. normal cycles, and who should not wait to seek help from a fertility specialist.
While SGF webinars are complimentary, interested parties must register to attend by visiting the SGF calendar of events.
October Virtual Fertility Events

October 13 @ 4 pm | Getting Started Webinar | Dr. Matthew Connell
October 16 @ 12 pm | Endometriosis Webinar | Dr. Melissa Esposito
October 21 @ 3 pm | Financial Webinar | Jennifer Cockburn, SGF Financial Services Team Lead
October 22 @ 4 pm | What Your Menstrual Cycle Says about Your Fertility Webinar | Dr. Valerie Libby
October 27 @ 3 pm | IVF Webinar | Dr. Erika Johnston-MacAnanny
SGF also hosts various live physician events on their social channels. Follow SGF on Facebook and Instagram for the latest updates and events.
For people struggling to conceive, it may be time to consult a fertility specialist. Contact the SGF New Patient Center at 1-888-761-1967 or complete a brief online request form to schedule a virtual fertility consult with an SGF physician. A virtual physician consult is the first step toward pursuing a pregnancy with the help of SGF.
To view SGF's growing library of free, on-demand webinars, E-books, and other education resources on topics such as endometriosis, PCOS, low-tech treatment options, weight and infertility, and much more, visit http://www.shadygrovefertility.com/resources/educational-resources.
About Shady Grove Fertility (SGF)
SGF is a leading fertility and IVF center of excellence with more than 85,000 babies born and 5,000+ 5-star patient reviews. With 37 locations throughout FL, GA, MD, NY, PA, VA, D.C., and Santiago, Chile, we offer patients virtual physician consults, deliver individualized care, accept most insurance plans, and make treatment affordable through innovative financial options, including 100% refund guarantees. More physicians refer their patients to SGF than any other center. Call 1-888-761-1967 or visit ShadyGroveFertility.com.