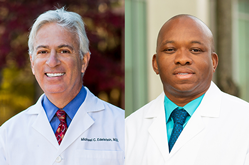 While December is often a joyous season of celebrating with loved ones, SGF recognizes it can be an emotionally tolling time for those struggling with infertility.
ROCKVILLE, Md. (PRWEB) December 01, 2020
As 2020 nears its end, Shady Grove Fertility (SGF) will wrap up the year with free virtual events throughout December for those seeking to learn more about infertility and its most effective treatment options. SGF physicians and team members have assembled a calendar of webinars and Instagram Live events ranging in topics from in vitro fertilization (IVF), egg freezing, and menstrual cycles, to coping with infertility during the holiday season. All online engagements offer participants the opportunity to ask questions directly to physician experts on the spot.
"While December is often a joyous season of celebrating with loved ones, SGF recognizes it can be an emotionally tolling time for those struggling with infertility," explains Ellen Eule, LCSW-C, of SGF's Psychological Support Team who will be hosting an Instagram Live on the topic December 15 at noon. "We understand infertility is a deeply personal challenge, and we're here to support patients every step of the way."
To help those on their path to parenthood take the first step, Anthony Imudia, M.D., of SGF Tampa Bay's Westshore and Wesley Chapel locations will host a Getting Started webinar on December 30 at 3 pm. Dr. Imudia, a committed medical researcher and board certified reproductive endocrinologist, will highlight how advancements in treatments can make conception possible for almost everyone. His informative presentation will cover how to best prepare for initial physician consultations, with tips including:

what to expect during your fertility evaluation,
how SGF follows a stepped approach to treatment,
and understanding SGF's unique financial programs that can support your unique situation.
"The resilience and determination of our patients challenged with infertility never ceases to amaze me," acknowledges Dr. Imudia. "You'll know when you're ready to ask for help from a specialist, and when you are, SGF will be dedicated to helping you from day one."
Over the course of nearly 30 years, SGF has helped bring more than 85,000 babies and counting into the world. While not all of these babies were the result of in vitro fertilization (IVF), IVF is a very popular and effective fertility treatment. On December 1 at 3 pm, Michael Edelstein, M.D., of SGF Richmond's Stony Point and Henrico locations will host an IVF webinar where he will review:

what to expect during the IVF process,
IVF success rates,
and exclusive SGF financial programs.
"The more you understand the IVF process, the less intimidating the treatment option becomes," shares Dr. Edelstein. "While IVF is considered high-tech and not always the first solution for infertility care, it can dramatically enhance success rates for patients diagnosed with endometriosis, severe male factor infertility, tubal disease, and more."
December Virtual Fertility Events at a Glance

While SGF fertility webinars are complimentary, interested parties must register to attend by visiting the SGF calendar of events. For more information, visit SGF's growing resource library for free, on-demand webinars, E-books, and other education resources on topics such as endometriosis, PCOS, low-tech treatment options, weight and infertility, and much more. Follow SGF on Facebook and Instagram for the latest updates and events.
For people struggling to conceive, it may be time to consult a fertility specialist. Contact the SGF New Patient Center at 1-888-761-1967 or complete a brief online request form to schedule a virtual fertility consult with an SGF physician. A virtual physician consult is the first step toward pursuing a pregnancy with the help of SGF.
About Shady Grove Fertility (SGF)
SGF is a leading fertility and IVF center of excellence with more than 85,000 babies born and 5,000+ 5-star patient reviews. With 37 locations throughout FL, GA, MD, NY, PA, VA, D.C., and Santiago, Chile, we offer patients virtual physician consults, deliver individualized care, accept most insurance plans, and make treatment affordable through innovative financial options, including 100% refund guarantees. More physicians refer their patients to SGF than any other center. Call 1-888-761-1967 or visit ShadyGroveFertility.com.