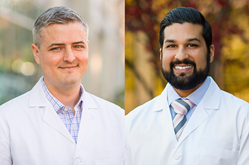 "SGF recognizes topics like weight because it not only fosters a healthier quality of life but improves overall success for fertility treatments."
ROCKVILLE, Md. (PRWEB) January 05, 2021
With 2020 in hindsight, Shady Grove Fertility (SGF) is ringing in the new year with free virtual events covering health, wellness, and fertility treatments for information seekers looking to kick off 2021 with rejuvenated hopes and goals. Since its founding nearly 30 years ago in 1991, SGF has and continues to empower the community by providing firsthand access to SGF physicians through frequent virtual events.
One of the first steps in overcoming suspected infertility is recognizing when it is time to see a fertility specialist. Join host Valerie Libby, M.D., from SGF Atlanta's Northside office for the "What to Expect When You're Not Expecting" webinar on January 19 at 4 pm. Dr. Libby will review the following need-to-know information, and conclude with an anonymous Q&A:

who should see a fertility specialist,
what to expect during the initial appointment,
how fertility is diagnosed,
treatment options, and
financial options.
There are many factors that can impact one's ability to conceive, including weight. Join  Matthew Connell, D.O., who sees patients at SGF's Mechanicsburg and Lancaster offices, for the "Weight and Fertility" webinar on January 6 at noon. During the live event, Dr. Connell will review how weight, whether it's over or under, can impact a person's ability to conceive as well as tips for maintaining and achieving a healthy body mass index (BMI).
"Weight is a sensitive subject, but often found at the top of New Year's resolutions lists," shares Dr. Connell. "Similar to how it's recommended to control medical conditions like diabetes, hyperthyroidism, and hypertension prior to pregnancy, it's important to know that weight requires similar attention. SGF recognizes topics like weight because it not only fosters a healthier quality of life but improves overall success for fertility treatments."
Over the course of nearly 30 years, SGF has helped bring more than 85,000 babies into the world. While not all these babies were the result of in vitro fertilization (IVF), IVF is a very popular and effective fertility treatment. On January 13 at 4 pm,  Anish Shah, M.D., M.H.S., of SGF Richmond's Stony Point and Henrico locations will host the "IVF" webinar where he will review:

what to expect during the IVF process,
IVF success rates,
and exclusive SGF financial programs.
"IVF can seem intimating, but I'm here to help soften that perception by giving patients an inside look at the process," explains Dr. Shah. "While many patients will not need IVF to conceive, it may be helpful that they understand the process so that if they do need this advanced treatment option, they will feel fully informed."
January Virtual Fertility Events at a Glance
While SGF fertility webinars are complimentary, interested parties must register to attend by visiting the SGF calendar of events. For more information, visit SGF's growing resource library for free, on-demand webinars, E-books, and other education resources on topics such as endometriosis, PCOS, low-tech treatment options, weight and infertility, and much more. Follow SGF on Facebook and Instagram for the latest updates and events.
For people struggling to conceive, it may be time to consult a fertility specialist. Contact the SGF New Patient Center at 1-888-761-1967 or complete a brief online request form to schedule a virtual fertility consult with an SGF physician. A virtual physician consult is the first step toward pursuing a pregnancy with the help of SGF.
About Shady Grove Fertility (SGF)
SGF is a leading fertility and IVF center of excellence with more than 85,000 babies born and 5,000+ 5-star patient reviews. With 37 locations throughout FL, GA, MD, NY, PA, VA, D.C., and Santiago, Chile, we offer patients virtual physician consults, deliver individualized care, accept most insurance plans, and make treatment affordable through innovative financial options, including 100% refund guarantees. More physicians refer their patients to SGF than any other center. Call 1-888-761-1967 or visit ShadyGroveFertility.com.