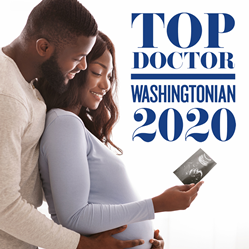 "SGF's 15 offices throughout the DMV are led by excellent physicians who are committed to providing the best fertility treatment and care. I'm proud to work alongside such fellow SGF physicians who work so diligently to serve our local communities."
ROCKVILLE, Md. (PRWEB) November 11, 2020
Shady Grove Fertility (SGF) is proud to receive the honors on behalf of 13 of the practice's physicians from the D.C. metro region who have been named 2020 Top Doctors in infertility by Washingtonian. Surveyed by Washingtonian, nearly 13,000 physicians in the Washington, D.C., Maryland, and Virginia area nominated colleagues in each of the 39 specialties to determine the Washington region's "Top Doctors." This list is referred to as "the region's very best," as chosen by their peers and is intended to help readers find the best medical care in their communities.
The 13 SGF Physicians Selected as Washingtonian's Top Doctors
SGF's reproductive endocrinologists honored in Washingtonian include:

Eric Widra, M.D.,
Michael Levy, M.D.,
Arthur Sagoskin, M.D.,
Anitha Nair, M.D.,
Andrea Reh, M.D.,
Kimberly Moon, M.D.,
Naveed Khan, M.D.,
Paulette Browne, M.D.,
Eric Levens, M.D.,
Jeanne O'Brien, M.D.,
Frank Chang, M.D.,
Joseph Doyle, M.D.,
and reproductive urologist, Paul Shin, M.D.
SGF is Proud to Be a Leader in Reproductive Medicine
As leaders in reproductive medicine, SGF physicians are committed to providing exceptional fertility care at a practice that is at the forefront of fertility technology and innovation.
"SGF's 15 offices throughout the DMV are led by excellent physicians who are committed to providing the best fertility treatment and care," said Dr. Joseph Doyle of SGF's Rockville, MD, location. "I'm proud to work alongside such fellow SGF physicians who work so diligently to serve our local communities."
Dr. Arthur Sagoskin, Co-Founder of SGF, commented, "We thank our patients, peers, and Washingtonian for their recognition and continued support. Every day, I feel privileged to be a part of a team like Shady Grove Fertility where we are all committed to supporting the needs of our patients, and most importantly, helping them to fulfill their dream of parenthood."
By providing uncompromising service, creating better access to care with affordable financial options, and delivering truly personalized care, SGF reached another significant milestone and is celebrating more than 85,000 babies born since the center first opened its doors in 1991. SGF achieved another patient-led milestone this year with 5,000 5-star patient reviews.
"When Dr. Sagoskin and I founded SGF, we were two physicians who wanted to provide our Rockville community with fertility care that put patient needs first," expresses SGF Co-Founder Dr. Michael Levy. "Today, I am proud to work alongside some of the best reproductive endocrinologists in the region."
SGF extends its congratulations to all physicians who are honored by Washingtonian. Additionally, SGF celebrates its referral network of 4,000-strong physicians annually who help make it possible for SGF to fulfill patients' dreams of having a baby.
For people struggling to conceive, it may be time to consult a fertility specialist. Contact the SGF New Patient Center at 1-888-761-1967 or complete a brief online request form to schedule a virtual consult with an SGF physician. A virtual physician consult is the first step toward pursuing a pregnancy with the help of SGF.
About Shady Grove Fertility (SGF)
SGF is a leading fertility and IVF center of excellence with more than 85,000 babies born and 5,000+ 5-star patient reviews. With 37 locations throughout FL, GA, MD, NY, PA, VA, D.C., and Santiago, Chile, we offer patients virtual physician consults, deliver individualized care, accept most insurance plans, and make treatment affordable through innovative financial options, including 100% refund guarantees. More physicians refer their patients to SGF than any other center. Call 1-888-761-1967 or visit ShadyGroveFertility.com.