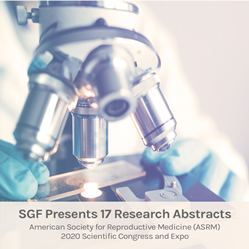 "SGF believes that it is our responsibility to give back to our patients by conducting high-quality research and by training the physicians who will take care of them in the future," says Dr. Kate Devine.
ROCKVILLE, Md. (PRWEB) October 21, 2020
Shady Grove Fertility's (SGF) physician-scientists presented exciting, new research findings during the 2020 American Society for Reproductive Medicine (ASRM) Scientific Congress & Expo as part of the practice's commitment to advancing knowledge and improving assisted reproductive technology (ART) treatment outcomes. Hosted virtually this year, the 2020 Scientific Congress and Expo took place October 17-21 and welcomed nearly 10,000 attendees from 94 countries. During a time when much of the world is connected from a distance, this year's theme of "Dynamic Collaborations in Reproductive Medicine" helped close the physical divide.
SGF: Committed to Research and Education
For the past 29 years, the physicians at SGF have made a sustained commitment to completing clinical research studies and educating physicians in training. SGF is one of only a few private practice fertility centers in the country to employ a full-time dedicated research team, which operates under Director of Research, Kate Devine, M.D., a board certified reproductive endocrinologist who sees patients in SGF's Washington, D.C., K Street location and is faculty to fellows at the National Institutes of Health (NIH) training to become Reproductive Endocrinologists and to residents at Georgetown School of Medicine training to be Obstetrician/Gynecologists. Many of the studies presented at the meeting this year resulted from collaborations between SGF and academic institutions. SGF physicians act as clinical instructors and research mentors to physicians in training from these institutions.
"SGF believes that it is our responsibility to give back to our patients by conducting high-quality research and by training the physicians who will take care of them in the future," says Dr. Devine. "The findings of our studies enable us to provide the best possible information and treatment outcomes to those struggling with infertility. The ASRM Scientific Congress and Expo is one of the largest platforms where, year after year, we combine brainpower with fellow professionals to advance modern medicine."
In addition to Dr. Devine, SGF further expanded its research capabilities with the addition of Anthony Imudia, M.D., Associate Professor of OB/GYN and REI Fellowship Program Director at the University of South Florida Morsani College of Medicine. Dr. Imudia joined SGF in 2019 and sees patients in Tampa Bay's Wesley Chapel and Westshore, FL, locations. His team of researchers contributed five of the 17 abstracts being presented by SGF this year.
"To better support patients with overcoming infertility, we must understand the root cause from a research perspective so we can tailor our treatment solutions," explains Dr. Imudia. "Research allows our physicians at SGF to stay at the forefront of making evidence-based fertility treatments possible for patients."
Remarkably, all 17 abstracts submitted to the ASRM meeting's scientific program committee were accepted for presentation. SGF's poster presentation co-authored by SGF reproductive urologist, Cori Tanrikut, M.D., on the analysis of the association between post-wash total motile sperm count and pregnancy from intrauterine insemination (IUI) was lauded as a third-place prizewinner at the event. The study, which analyzed more than 92,000 IUI cycles, provides a highly clinically useful counseling tool. Clinicians can use these data to advise patients with mild male factor infertility regarding their odds of success from IUI so that couples can make informed decisions between low-tech treatment and IVF.
SGF Physicians Recognized for Leadership
In addition to the 17 abstracts presented at ASRM 2020, SGF's own leadership team took to the virtual stage to present key findings alongside fellow leaders in the field of infertility.
SGF Co-founder and IVF Director for Maryland, Michael Levy, M.D., co-chaired two presentations at the event:

"Embryos v. Eggs? Emerging Fertility Preservation Challenges"
"The ABOG Foundation – Kenneth J. Ryan Ethics Symposium: Dilemmas in Gamete Donation: Honoring Prior Promises in an Era of Vanishing Anonymity"
Additionally, SGF Chief Medical Officer, Eric Widra, M.D., co-chaired the CME-, PEER-, and ACOG-certified symposium, "Evidence Based Embryo Transfer: Maximizing Implantation." Dr. Widra, along with Drs. Devine and Imudia, received an ASRM Star Award for sustained research contribution.
Several Abstracts Focus on Understanding Racial and Ethnic Disparities in Fertility Treatment Access and Outcomes
An important focus for SGF researchers this year was to study and understand racial disparities in fertility treatment outcomes and access to care. This has been prioritized as an area of study for the SGF research team year after year. In 2018, SGF authors, including Kate Devine, M.D., and Isaac Sasson, M.D., Ph.D., earned the Health Disparities Special Interest Group Prize Paper for their abstract, "African American patients experience reduced pregnancy, higher pregnancy loss, and lower live birth from in vitro fertilization (IVF) embryo transfers despite producing more oocytes and more transfer quality embryos than comparable Caucasian patients."

Five of the abstracts that were presented by SGF at ASRM in 2020 focus on better understanding differences in access to care and treatment outcomes experienced by minority groups.
Two of the abstracts found that both Asian and African American patients experienced lower odds of live birth from donor egg IVF relative to Caucasian patients. SGF's Frank E. Chang, M.D., co-authored the study on Asian patients.
In addition, a separate abstract, which was co-authored by Dr. Chang, found that East Asian patients undergoing IVF experienced lower odds of live birth from fresh embryos that have not been genetically tested but equivalent outcomes to Caucasians when frozen PGT-A tested (i.e., chromosomally normal) embryos were used, indicating that egg quality may play a role in the lower live birth rates experienced by these patients.
Finally, members of SGF's clinical research team, Renee Hart, M.S. and Samad Jahandideh, Ph.D., teamed up with researchers from the University of Pennsylvania and Duke School of Medicine to present two abstracts presenting data, both objective and subjective (obtained via interviews of SGF patients), regarding the systemic and individual factors that influence whether African American women pursue fertility treatment.
"Women need to be aware of these disparities, and hopefully this awareness will lead them to seek infertility treatment and consultation earlier in their journey to a healthy baby, to maximize chances of success. Furthermore, the more we understand the causes underlying poorer treatment outcomes in minority groups, the more we can work to close the disparity gap," explains Dr. Devine.
SGF Presents Novel Findings on an Expanding Embryo Donation Treatment Modality that Helps Both Couples and Single Women Achieve their Goal of Having a Family
Additional 2020 SGF abstracts present novel analyses on two important patient populations:

Those who elect to donate embryos and
Those who endeavor to achieve parenthood by receiving a donated embryo.
The studies seek to elucidate factors that lead patients to donate embryo(s) or to receive donated embryo(s), as well as to better understand outcomes from these embryos. There is little published data on embryo donation, and SGFs growing and successful embryo donation program provided the data for these much-needed analyses. In addition to demonstrating high live birth rates resulting from transfer of donated embryos, SGF's research demonstrated that women and couples who conceived using donor-egg IVF were more likely to go on to become embryo donors, perhaps due to a desire to "give back," so that others may achieve parenthood.
"SGF's analyses uncovered that 42% of patients who inquired about donating embryos, and 48% of those who ultimately went on to donate, had utilized donor eggs to create those embryos," explains Dr. Devine. "An impressive 43% of these embryo transfers resulted in successful pregnancies. Embryo donation represents a highly effective and efficient option for women of advanced reproductive age who are unable to conceive with their own eggs, especially those wishing to conceive as single moms by choice," adds Devine.
Other SGF Findings Presented

SGF's Nancy Durso, M.D., and co-authors found that obese women are less likely to proceed with fertility treatment after an initial consultation with a fertility specialist and that there is a longer average duration before treatment begins for such patients. More effective strategies for actively assisting women in this population to achieve healthy weight loss prior to pregnancy holds potential for improving fertility treatment access, fertility treatment outcomes, and enabling healthy pregnancies and deliveries for moms and babies. SGF's Wellness Center offers in-house nutrition and wellness services to patients working towards theses goals.
SGF's Jeanne E. O'Brien, M.D., and co-authors analyzed outcomes from gestational carrier cycles based on single vs double embryo transfer, finding that elective single embryo transfer (eSET) is highly successful and that double embryo transfer increases risk for preterm birth and low birth weight, even in the setting of a healthy gestational carrier. Promoting the goal of healthy singleton live birth is particularly important in this population, given that many intended parents still opt to transfer two embryos in the time and cost-intensive setting of working with a gestational carrier.
"SGF holds the goal of 'one healthy baby at a time' paramount both in its research and its clinical practice and is a national leader in its utilization and success from eSET, in service of this goal," shared Devine.
To learn more about ongoing research being conducted at SGF, visit http://www.shadygrovefertility.com/research
About Shady Grove Fertility (SGF)
SGF is a leading fertility and IVF center of excellence with more than 85,000 babies born and 5,000+ 5-star patient reviews. With 37 locations throughout FL, GA, MD, NY, PA, VA, D.C., and Santiago, Chile, we offer patients virtual physician consults, deliver individualized care, accept most insurance plans, and make treatment affordable through innovative financial options, including 100% refund guarantees. More physicians refer their patients to SGF than any other center. Call 1-888-761-1967 or visit ShadyGroveFertility.com.