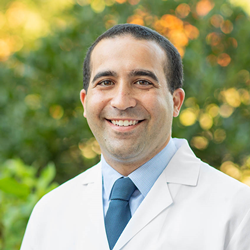 "Everyone's fertility story is deeply personal and unique and the team and I are sensitive to that. I listen to a patient's concerns and I put myself in their shoes. I remember that I've sat on that side of the table and have felt that vulnerability."
NEW YORK (PRWEB) November 02, 2020
Shady Grove Fertility (SGF) proudly welcomes reproductive endocrinologist, Robert Setton, M.D., to SGF New York's medical team. Dr. Setton will join SGF New York Medical Director, Tomer Singer, M.D., MBA, and SGF New York IVF Director, Anate Brauer, M.D., offering highly specialized fertility care to patients in the region. Dr. Setton will begin seeing new patients virtually based out of SGF's Manhattan office initially, then transition to SGF's brand new Brooklyn location in Spring 2021.
Dr. Setton is passionate about working with patients to properly diagnose and treat infertility, particularly with his extensive knowledge on diminished ovarian reserve, male infertility, and endometriosis.
"SGF is truly a patient-centered practice," explains Dr. Setton. "The mantra that guides any decision is, 'what would be best for the patient?' The practice was built on that principle and it has been its guiding light. When every employee is focused on the patient experience, it creates a culture that is full of positivity, excitement, and support."
Dr. Setton earned his medical degree from New York University School of Medicine. He completed his residency from New York Presbyterian/Weill Cornell Medicine, during which he was appointed co-administrative chief resident and awarded the Jerome Seiler Memorial Award for Excellence in Pelvic Surgery. Dr. Setton stayed in New York City to complete his fellowship in reproductive endocrinology and infertility at Weill Cornell Medicine.
He is also a member of several professional organizations, including the American Medical Association (AMA), American College of Obstetricians and Gynecologists (ACOG), Society for Reproductive Endocrinology and Infertility (SREI), and the American Society for Reproductive Medicine (ASRM). An accomplished researcher, Dr. Setton has contributed to more than 20 presentations across the globe on topics including frozen embryo transfer (FET) and donor egg transfer. Additionally, he has published research with great expertise on polycystic ovary syndrome (PCOS), fibroids, and in vitro fertilization (IVF).
"Everyone's fertility story is deeply personal and unique and the team and I are sensitive to that," shares Dr. Setton. "I listen to a patient's concerns and I put myself in their shoes. I remember that I've sat on that side of the table and have felt that vulnerability. After the evaluation, I work in partnership with the patient to solidify a plan that makes them comfortable and brings them to their desired goal as efficiently as possible."
Dr. Singer shared, "Having only opened SGF New York's premier Manhattan practice in September 2019, it's exciting to grow our team with Dr. Setton. With such an accomplished, warm, generous physician on the team we will be able to help even more patients in the New York City region fulfill their family dreams."
SGF's Grand Opening in Brooklyn Spring 2021
SGF's brand new Brooklyn location is opening in Spring 2021 and, at that time, Dr. Setton will take the helm at the new fertility center. The new location will complement the Manhattan location's expansive services and offer convenient access to premier fertility care and treatment.
Brooklyn patients will gain access to many unique advantages that sets SGF New York apart:

Donor Egg Program: SGF's Donor Egg Program is the largest in the nation and is one of only a few centers that recruits, selects, and prescreens (medically, psychologically, and genetically) its own ready-to-cycle egg donors prior to making them available on their donor registry. SGF is the proud home to more than 8,000 babies born from donor eggs.
Egg Freezing: SGF is one of the top five egg freezing programs in the U.S., and the number of women choosing egg freezing is growing in popularity at an unprecedented 20 percent per year, nationally, with women who live and work near New York City comprising a large percentage.
100% Refund Program: SGF offers exclusive 100% refund guarantee programs for IVF and donor egg treatment—take home a baby or a full refund—a significant differentiator among other programs in the area.
"I'm proud to welcome Dr. Setton as SGF expands across the bridge into Brooklyn," shares Dr. Brauer. "With a presence in the Manhattan and Brooklyn boroughs, we can offer patients easier access to top quality fertility services including intrauterine insemination (IUI), in vitro fertilization (IVF), donor egg treatment, preimplantation genetic testing, egg freezing, gestational surrogacy, and LGBTQ+ family building closer to home."
Patients may schedule an appointment with Dr. Setton at SGF New York by calling 212-203-4826 or submitting this brief form.
About Shady Grove Fertility (SGF)
SGF is a leading fertility and IVF center of excellence with more than 85,000 babies born and 5,000+ 5-star patient reviews. With 37 locations throughout FL, GA, MD, NY, PA, VA, D.C., and Santiago, Chile, we offer patients virtual physician consults, deliver individualized care, accept most insurance plans, and make treatment affordable through innovative financial options, including 100% refund guarantees. More physicians refer their patients to SGF than any other center. Call 1-888-761-1967 or visit ShadyGroveFertility.com.