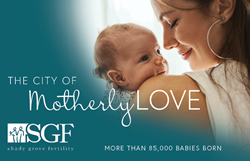 PHILADELPHIA (PRWEB) October 13, 2020
Shady Grove Fertility (SGF), the largest fertility center in the nation, has now fully reopened their downtown Philadelphia office in Center City, where the building had been closed since March. All three SGF locations in the Philadelphia metro area are now fully reopened.
While SGF is increasing access to care by reopening all offices, new patients still benefit from convenient telehealth appointments as well as free second opinion video consults for new patients seeking care with one of their Philadelphia, Chesterbrook, or Warrington physicians.
SGF's Philadelphia-metro physicians, Drs. Caleb Kallen, Brianna Schumacher, Isaac Sasson and Ryan Martin provide fertility patients with a full range of state-of-the-art diagnostic and treatment options for female and male infertility. SGF also provides patients with a range of financial options to make treatment more affordable, including their exclusive Multi-Cycle Discount Program, where patients can save 40% on the cost of IVF by preparing for multiple cycles, as well as their exclusive Shared Risk 100% Refund Program for IVF or donor egg treatment, where patients either take home a baby or a full refund.
In a 2017 study, Mayo Clinic researchers found that, for 88 percent of patients, getting a second opinion yielded a new or more detailed diagnosis. When it comes to fertility treatment, however, patients often forego this step. Seeking a second opinion before embarking on a fertility journey can make a difference in the path to pregnancy and may provide a different perspective or treatment strategy that better resonates with the patient's needs.
To learn more about second opinions at SGF or SGF's Philadelphia-metro physician team, visit SGF's website or schedule a virtual physician consultation.
About Shady Grove Fertility (SGF)
SGF is a leading fertility and IVF center of excellence with more than 85,000 babies born and 5,000+ 5-star patient reviews. With 37 locations throughout FL, GA, MD, NY, PA, VA, D.C., and Santiago, Chile, we offer patients virtual physician consults, deliver individualized care, accept most insurance plans, and make treatment affordable through innovative financial options, including 100% refund guarantees. More physicians refer their patients to SGF than any other center. Call 1-888-761-1967 or visit ShadyGroveFertility.com.