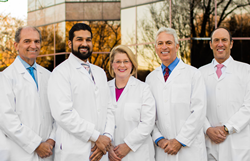 We are pleased to be able to increase access to patient care in Richmond with the opening of our new center on the Henrico Doctors' Hospital campus. It reinforces our long-standing commitment to help patients affordably access quality care.
RICHMOND, Va. (PRWEB) September 11, 2019
SGF Richmond announced today the opening of their brand new fertility center on the campus of Henrico Doctors' Hospital in the Sarah Cannon Building. The new center is located at 7607 Forest Avenue, Suite 400, Richmond, VA 23229 and will offer comprehensive fertility services, such as patient consultations, fertility and ovarian reserve testing and diagnosis, semen analysis, a full range of fertility treatments such as ovulation induction and intrauterine insemination (IUI), and cycle monitoring, in vitro fertilization (IVF), donor egg, sperm, and embryo treatment, genetic screening and testing, IVF for inherited genetic disease prevention, gestational carrier, egg freezing, fertility preservation for patients with cancer, and LGBTQ family building.**
** Hysterosalpingograms (HSG), egg retrievals, and embryo transfers, if needed, are performed in SGF's Stony Point office also located in Richmond, VA.
SGF Richmond significantly expanded its foothold in the region in 2018 after joining forces with Virginia Fertility Associates and VAIVF & Andrology Center, becoming the largest IVF practice in Greater Richmond, offering high quality reproductive healthcare that embodies a consistent, personalized, patient-centered philosophy. SGF Richmond offers well over 30 years of experience in helping individuals and couples start or expand their families with high success rates and a patient-care approach that has been widely recognized.
SGF also announced the addition of Geof Tidey, M.D. to the Henrico Office medical team, joining Erika B. Johnston-MacAnanny, M.D. Dr. Tidey, co-founder of Virginia IVF and Andrology Center, specializes in the medical and surgical management of infertility and reproductive endocrinology including IVF, intracytoplasmic sperm injection (ICSI), preimplantation genetic testing, and minimally invasive surgical treatment of fibroids, adhesions, endometriosis, and uterine abnormalities. He currently serves as a Clinical Professor in Reproductive Endocrinology and Infertility at Medical College of Virginia. Dr. Tidey also sees patients in the SGF Stony Point location.
"We are pleased to be able to increase access to patient care in Richmond with the opening of our new center on the Henrico Doctors' Hospital campus. It reinforces our long-standing commitment to help patients affordably access quality care," said Dr. Tidey.
Referring providers are invited to meet board certified Henrico physicians, Drs. Johnston and Tidey, as well as meet Richmond Magazine Top Docs, Michael Edelstein, M.D., Anish Shah, M.D., M.H.S., and Kenneth Steingold, M.D., at an Open House to commemorate the opening of the new center at 7607 Forest Avenue, Suite 400, on Monday, September 16, 2019, from 5:30-7:30 PM. RSVP to Lynn Dillingham, Practice Development Specialist at lynn.dillingham@sgfertility.com by September 9, 2019.
"It's an honor to be a part of a practice with such a strong track record of patient-focused, cutting-edge care. I am excited to be a part of a patient-centered team of highly skilled physicians who aim to keep pace with our quick changing field of reproductive medicine and shape the future direction of the field," said Dr. Johnston.
Information seekers who are considering fertility treatment and/or current SGF Richmond patients who are looking to learn more about overcoming infertility are invited to attend a free informational seminar in Richmond's Stony Point location on Wednesday, September 18, 2019 at 6:30 PM. Dr. Michael Edelstein will review "What to Expect When You're Not Expecting" including who should see a fertility specialist, what to expect during the initial appointment, how fertility is diagnosed, treatment options, and financial options, such as SGF's 100% refund guarantee program—take home a baby or receive 100% refund. Attendees will have the opportunity to ask Dr. Edelstein questions following the presentation. The event is complimentary and includes a free consult with Dr. Edelstein that can be scheduled while attendees are at the event.
SGF Richmond offers a variety of insurance networks as well as innovative financial programs, including a refund guarantee program. SGF was the first practice to create an IVF program with a refund guarantee, known as the Shared Risk 100% Refund Program. This exclusive program provides patients with the opportunity to pay a fixed amount for up to six fresh IVF or donor egg cycles and any subsequent frozen embryo transfers (FETs). In the event the patient does not take home a baby, SGF provides a full refund. Eighty-two percent of participants take home a baby using their own eggs and 86 percent take home a baby when using a donor egg.
Other popular programs that make treatment affordable include SGF's Shared Help Discount Program, an income-based program that offers a discount on most treatments and procedures provided by SGF Richmond, the Military Discount Program, which offers active U.S. military and reservists a 25 percent discount off qualifying self-pay rates, and a Shared Donor Egg Program, which reduces the cost of donor egg treatment by up to 50 percent when sharing donating eggs with other patients—an approach that does not lower the chances of conception but does significantly lower the cost.
To learn more or to schedule an appointment at one of SGF Richmond's locations, call 1-888-761-1967.
About Shady Grove Fertility (SGF)
SGF is a leading fertility and IVF center of excellence with more than 85,000 babies born and counting. With 36 locations throughout FL, GA, MD, NY, PA, VA, D.C., and Santiago, Chile, we offer patients individualized care, accept most insurance plans, and make treatment affordable through innovative financial options, including treatment guarantees. More physicians refer their patients to SGF than any other center. Call 1-888-761-1967 or visit ShadyGroveFertility.com.