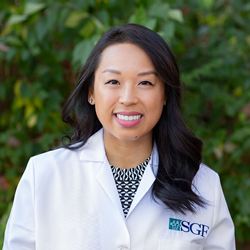 "The 85,000 babies and counting born at SGF is nothing short of a miracle. I am immensely proud to be a part of this team of people who are all 100% dedicated to the goal of building families and making dreams a reality."
FAIRFAX, Va. (PRWEB) December 03, 2020
Shady Grove Fertility (SGF) announced today that reproductive endocrinologist, Jennifer Hsu, M.D., has joined the practice and will begin seeing patients in SGF's Woodbridge location late December 2020. As a University of Virginia Cavalier alumna, Dr. Hsu is proud to return to the state where her medical journey began.
"The 85,000 babies and counting born at SGF is nothing short of a miracle," says Dr. Hsu. "I am immensely proud to be a part of this team of people who are all 100% dedicated to the goal of building families and making dreams a reality."
Dr. Hsu will provide comprehensive fertility services to patients, including:

fertility and ovarian reserve testing and diagnosis;
semen analysis;
hysterosalpingogram (HSG);
low-tech fertility options;
in vitro fertilization (IVF);
donor egg, sperm, and embryo;
genetic screening and testing;
gestational carrier;
egg freezing;
fertility preservation for patients with cancer;
and LGBTQ family building.
Dr. Hsu earned a full undergraduate merit scholarship from UVA, where she continued her graduate studies and earned a medical degree. As a medical student, Dr. Hsu extended her research efforts abroad in Quetzaltenango, Guatemala, and was ultimately honored with the Medical Alumni Association (MAA) Outstanding Medical Student Award. Her time in Central America allowed Dr. Hsu to exercise her fluency in Spanish.
She then completed her residency at Columbia University Medical Center, followed by a move to Boston where Dr. Hsu completed her fellowship in reproductive endocrinology and infertility at Massachusetts General Hospital. Today, she is board eligible in obstetrics and gynecology as well as reproductive endocrinology and infertility.
"When patients are hurting, my vow is to stay by their side and help them through it," shares Dr. Hsu. "Whether they need someone to listen, grieve with, or help them make a plan, I will be there. The journey to parenthood can be difficult, but I hope my patients never feel that they are alone."
Dr. Hsu is very active in the medical community. She is an experienced lecturer and oral examiner at Harvard Medical School and has spent time in Appalachia providing free medical and women's health services to residents. Additionally, Dr. Hsu is an accomplished researcher, having contributed to more than 15 presentations across the country on topics including intrauterine insemination (IUI), anti-Mullerian hormone (AMH), and polycystic ovary syndrome (PCOS). She has also served as a peer-reviewer for several publications including the Journal of Assisted Reproduction and Genetics.
"Dr. Hsu is a very bright and compassionate physician who, on behalf of SGF, we're very thankful to have part of our team," says Eric Widra, M.D., Chief Medical Officer at SGF.
Patients may schedule a new patient virtual physician consultation with Dr. Hsu by calling 1-877-761-1967 or submitting this brief form. Patients also have access to SGF Woodbridge's unique financial options, such as the 100% refund program for IVF, that help make fertility treatment more affordable.
About Shady Grove Fertility (SGF)
SGF is a leading fertility and IVF center of excellence with more than 85,000 babies born and 5,000+ 5-star patient reviews. With 37 locations throughout FL, GA, MD, NY, PA, VA, D.C., and Santiago, Chile, we offer patients virtual physician consults, deliver individualized care, accept most insurance plans, and make treatment affordable through innovative financial options, including 100% refund guarantees. More physicians refer their patients to SGF than any other center. Call 1-888-761-1967 or visit ShadyGroveFertility.com.