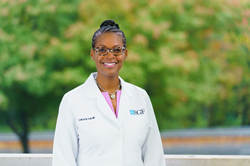 I am honored to have earned this distinction and am humbled by the trust that my patients place in me, as we work together to help make their dream of a family a reality.
ATLANTA (PRWEB) February 14, 2019
Shady Grove Fertility Atlanta (SGF Atlanta) has announced that board certified reproductive endocrinologist, Dr. Desireé McCarthy-Keith has been named Medical Director for the Atlanta region. This distinction is based on Dr. McCarthy-Keith's leadership, commitment, and dedication to the practice and the local Atlanta community in helping patients overcome infertility. In this role, Dr. McCarthy-Keith will provide clinical leadership, oversee quality assurance, and support efforts to maintain the Atlanta practice's IVF Center of Excellence status in reproductive endocrinology and infertility (REI).
"I am honored to have earned this distinction and am humbled by the trust that my patients place in me, as we work together to help make their dream of a family a reality. I feel privileged to be a part of a practice that strives for continuous innovation while always standing behind their promise of doing what is best for the patient," says McCarthy-Keith.
As a leader in the field of infertility, Dr. McCarthy-Keith's medical expertise and reputation have garnered her significant press coverage by some of the top media outlets and publications. In recent months, she was featured in Oprah Magazine and Women's Health discussing how infertility impacts African-American women and the perception of infertility among the African-American community. She was also featured in NPR's morning news radio program, "The Takeaway" to discuss Michelle Obama's new memoir and her 2018 announcement about her own struggle with infertility.
Dr. McCarthy-Keith's professional career embodies her commitment to quality patient care. In 2018, she was named a Top Doc for Infertility by Atlanta Magazine, a distinction voted by physician peers in various fields of medicine and compiled by Castle Connelly Medical Ltd, which guides consumers to America's top doctors and top hospitals. Castle Connolly's physician-led team of researchers follows a rigorous screening process to select top doctors on both the national and regional levels. Careful screening of doctors' educational and professional experience is essential before final selection is made among those physicians most highly regarded by their peers.
McCarthy-Keith is also a recipient of Best Fertility Specialist in Atlanta by Kudzu, Black Health Magazine's Most Influential African-American Doctors, Who's Who in Black Atlanta (2011, 2012, 2014-2018), and Mom-Approved Fertility Specialist in Atlanta Parent Magazine.
SGF Atlanta, home to Dr. McCarthy-Keith and fellow physicians, Drs. Monica Best, Anne Namnoum, Mark Perloe, and Natalie Stentz has also earned numerous accolades in the region including Best Reproductive Endocrinology Practice by Kudzu—a distinction earned through a voting process by members of the surrounding Atlanta community.
The honor of SGF Atlanta being designated as a Center of Excellence by Optum,™ a leading information and technology-enabled health services business, was earned by demonstrating successful clinical outcomes and exceptional physician experience, staffing, and facilities, as well as maintaining accreditation status and continuous quality assurance.
"This is an exciting time in Atlanta as we designate Dr. McCarthy-Keith as Medical Director for the SGF Atlanta region. She has continued to demonstrate impressive leadership among the practice and in the Atlanta community and embodies all of the necessary traits that not only make her an extraordinary leader, but a highly-respected physician and someone patients can trust," says Mark Segal, Chief Executive Officer of Shady Grove Fertility.
SGF Atlanta's expansion in the region continues in order to keep up with growing demand for quality care. Adding to their locations in Atlanta-Northside and Alpharetta, the practice opened a new location in Marietta, GA in 2018 and expanded Buckhead-Piedmont to a brand new full-service location.
To schedule an appointment with Dr. Desireé McCarthy-Keith or another SGF Atlanta physician, please call 888-761-1967 or complete this brief online form.
About Shady Grove Fertility Atlanta
SGF Atlanta, formerly Georgia Reproductive Specialists (GRS), is part of the Shady Grove Fertility (SGF) international network of state-of-the-art infertility care and IVF centers, offering patients individualized care, innovative financial options, and pregnancy rates among the highest in the United States. For more information about SGF Atlanta or to schedule an appointment with an SGF Atlanta physician, call 404-843-2229 or fill out this brief form. For more information about Shady Grove Fertility, call 1-888-761-1967 or visit ShadyGroveFertility.com.