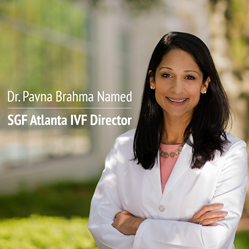 I am honored to have earned this distinction and am humbled by the trust that my patients place in me, as we work together to help make their dream of parenthood into a reality.
ATLANTA (PRWEB) August 27, 2020
Shady Grove Fertility Atlanta (SGF Atlanta) has announced that board certified reproductive endocrinologist, Dr. Pavna Brahma has been named IVF Director for the Atlanta region. This distinction is based on Dr. Brahma's leadership, commitment, and dedication to the practice and the local Atlanta community in helping patients overcome infertility. In this role, Dr. Brahma will provide clinical leadership, oversee quality assurance, and support efforts to maintain the Atlanta practice's IVF Center of Excellence status in reproductive endocrinology and infertility (REI).
"I am honored to have earned this distinction and am humbled by the trust that my patients place in me, as we work together to help make their dream of parenthood into a reality. I feel privileged to be a part of a practice that strives for continuous innovation while always standing behind their promise of doing what is best for the patient," says Brahma.
Dr. Brahma's professional career embodies her commitment to quality patient care. This year, she was named a Top Doctor for Infertility by Atlanta Magazine, a distinction voted by physician peers in various fields of medicine and compiled by Castle Connelly Medical Ltd, which guides consumers to America's top doctors and top hospitals.
Dr. Brahma earned her medical degree and completed her residency training in Obstetrics and Gynecology at the University of Michigan. Dr. Brahma then went on to complete a fellowship in Reproductive Endocrinology and Infertility at Emory University. As a researcher, Dr. Brahma has produced several publications and research presentations in the fields of endocrinology, infertility, and reproductive immunology. In 2009, she was a recipient of the Prize Paper Award in Reproductive Immunology from the American Society for Reproductive Medicine.
Dr. Brahma is also a member of numerous medical organizations including the American Society for Reproductive Medicine, the American College of Obstetrics and Gynecology, and the Society for Assisted Reproductive Technology (SART). Locally, Dr. Brahma is a member the Georgia Obstetrical and Gynecological Society and a Women in Healthcare Committee Member for the Atlanta Women's Foundation.
"This is an exciting time in Atlanta as we designate Dr. Brahma as IVF Director for the SGF Atlanta region. She has continued to demonstrate impressive leadership within the practice and in the Atlanta community and embodies all of the necessary traits that not only make her an extraordinary leader, but a highly-respected physician and someone patients can trust. I welcome Dr. Brahma's partnership and look forward to us leading our region together." says Dr. Desireé McCarthy-Keith, Medical Director of SGF Atlanta.
Dr. Brahma and other SGF Atlanta physicians are accepting new patients. Call 1-877-761-1967 or submit this brief form to schedule a virtual physician consult.
About Shady Grove Fertility (SGF)
SGF is a leading fertility and IVF center of excellence with more than 85,000 babies born and counting. With 37 locations throughout FL, GA, MD, NY, PA, VA, D.C., and Santiago, Chile, we offer patients virtual physician consults, individualized care, accept most insurance plans, and make treatment affordable through innovative financial options, including treatment guarantees. More physicians refer their patients to SGF than any other center. Call 1-888-761-1967 or visit ShadyGroveFertility.com.