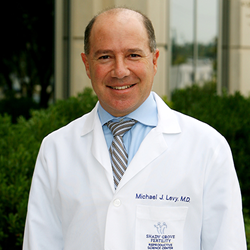 In the last 25 years, 15,000 patients have enrolled in our Shared Risk Program and about 5,000 (35%) have delivered a baby on their first attempt.
Rockville, MD (PRWEB) May 15, 2017
Shady Grove Fertility has more babies born than any other fertility center in the nation, is the largest IVF program in the United States, and was also the first fertility practice to create an IVF guarantee program known as Shady Grove Fertility's Shared Risk 100% Refund Program.
The program was developed 25 years ago by Shady Grove Fertility Co-founder, Michael J. Levy, M.D., specifically to help patients who are often faced with a difficult dilemma when undergoing fertility treatment—continue with fertility treatment at the risk of being left without a child and no financial savings. This unique program provides patients with the opportunity to pay a flat fee for up to six IVF or donor egg cycles and any subsequent frozen embryo transfers. If the patient does not take home a baby, she receives a full refund. Of the total 15,000 Shared Risk participants, 82 percent take home a baby.
In the absence of insurance coverage, the goal of this program is to offer a solution for patients who want to pursue treatment without having to bear the financial burden should treatment not be successful. Patients are not obligated to complete all treatment cycles available in the program, and can stop treatment at any time and receive a 100% refund. Offering such a program is one of the many factors that have led Shady Grove Fertility to become the largest IVF program in the country. Approximately 90% of applicants are accepted into the program. "In the last 25 years, 15,000 patients have enrolled in our Shared Risk Program and about 5,000 (35%) have delivered a baby on their first attempt. Over 1,000 patients who delivered a baby on their first cycle returned for further treatment and selected the Shared Risk program again," states Dr. Levy.
In the past 25 years, the practice has performed over 60,000 IVF cycles and, of those cycles, 25% were Shared Risk. The vast majority of the patients who did not participate in the Shared Risk program had partial or complete insurance coverage. In an analysis of over 8,000 embryo transfers performed in 2016, the practice transferred an average of 1.24 (76% were single embryo transfer, or eSET) embryos per cycle that resulted in a 12% twin rate. "Our rate of single embryo transfer [and subsequently our low multiple pregnancy rate] is higher than the national average, with no difference in the number of embryos transferred in fee for service versus Shared Risk patients," comments Levy. With advances in technology, eSET has allowed patients to have a healthy singleton pregnancy while significantly lowering the risks associated with multiple pregnancies without comprising chances of success.
"Our golden rule is to always do what's best for the patient. The 'patient comes first' is the core of our practice and the reason that we developed financial programs such as Shared Risk—to make treatment affordable and accessible for everyone in the hopes of making people's dreams of parenthood a reality," says Levy.
About Shady Grove Fertility
Shady Grove Fertility is a leading fertility and IVF center of excellence offering patients individualized care, innovative financial options, and pregnancy rates among the highest of all national centers. 2016 commemorated 25 years of Shady Grove Fertility providing medical and service excellence to patients from all 50 states and 35 countries around the world, and over 40,000 babies born—more than any other center in the nation. Today, 39 physicians, supported by a highly specialized team of more than 700 Ph.D. scientists, geneticists, and staff care for patients in 19 full-service offices and six satellite sites throughout Maryland, Pennsylvania, Virginia, and Washington, D.C. Shady Grove Fertility physicians actively train residents and reproductive endocrinology fellows and invest in continuous clinical research and education to advance the field of reproductive medicine through numerous academic appointments and partnerships such as Georgetown Medical School, Walter Reed National Military Medical Center, the University of Maryland, and the National Institutes of Health. More than 1,700 physicians refer their patients to Shady Grove Fertility each year. For more information, call 1-888-761-1967 or visit ShadyGroveFertility.com.