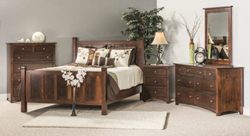 "Our clients love the simple, clean lines of the shaker style and this Shaker bedroom collection complements our other Shaker pieces."
SHIPSHEWANA, Ind. (PRWEB) January 22, 2020
Homeowners who like the simplicity of Shaker-style furniture but also favor the straight lines and stark contrasts of modern furniture will love the Shaker Collection Bedroom Set from Weaver Furniture Sales of Shipshewana, Indiana. According to LeRoy Weaver, owner of Weaver Furniture Sales, "our clients love the simple, clean lines of the shaker style and this Shaker bedroom collection complements our other Shaker pieces."
The bedroom set includes a bed, dresser with mirror, chest and a nightstand. Weaver Furniture Sales offers the bed in twin, full, queen and king sizes.
The dresser, chest and nightstand retain the Shaker-inspired arch at the bottom plus the flat, unembellished drawer fronts and recessed panels on the bed. That said, the Shaker Collection Bedroom Set exhibits some modern trends. These include the burly, 3x3-inch square posts as well as the clean lines of the bed, mirror and drawer fronts.
A number of strength and comfort enhancing features are built into each item of the bedroom collection. For example, each drawer is built with dovetail joints for added strength and durability. Also, the drawers open full extension. So owners can enjoy easy access to every corner of each drawer. What's more, the under-mount drawer slide enables owners to close the drawers with a gentle push. Customers can order the bedroom set in their choice of wood species, such as oak, maple, cherry and hickory.
The Shaker Collection Bedroom Set is built to last and can be customized to match the furniture colors in your home or to meet your taste. Amish furniture craftsmen painstakingly handcraft each piece in the collection. Also, the artisans use quality regional hardwoods. As a result, the pieces are incredibly sturdy, durable and heirloom-quality.
The Shaker Collection Bedroom Set can be ordered online or customers can visit Weaver's 'brick and mortar' store in Shipshewana, Indiana. The large Weaver furniture showroom is located 1/4 mile south and 1/4 mile east of the junction of State Road 5 and US 20 in Shipshewana, Indiana.
Weaver Furniture Sales is open daily from 9 a.m. to 5 p.m., 9 a.m. to 4 p.m. on Saturday. The store is closed Sundays. For more information, visit Weaver Furniture Sales website or call 260-768-7730.
About Weaver Furniture Sales
Weaver Furniture Sales was established in 1989 in Shipshewana, Indiana. An Amish, family-owned furniture business, Weaver offers a full line of solid wood, Amish Furniture at affordable prices. And Weavers caters to both residential and commercial customers. The company features Shaker, Mission and Traditional furniture styles. As part of their client services, Weavers provides furniture design consultation services, custom furniture options, furniture quotes, layaway options and various delivery alternatives for residences and businesses in the United States.
LeRoy and Ida Weaver own and operate Weaver Furniture Sales. They began with a 1,500 square foot showroom, which has been expanded to more than 20,000 square feet. Previously, they owned and managed LeWana Dairy Farm, where they milked cows and raised corn and hay.