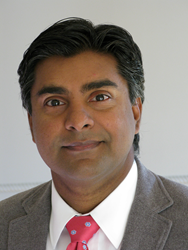 DURHAM, N.C. (PRWEB) November 12, 2018
Shakti H. Ramkissoon, MD, PhD, MMSc, was awarded The Oncologist's inaugural Young Investigator Award for his work on genomic profiling in children with brain tumors. The Oncologist journal established this award to foster advancements in the field of oncology by honoring a young researcher who is principal author of a high-impact article with the greatest potential to improve patient outcomes.
Dr. Ramkissoon's award-winning work, published in the December 2017 issue of The Oncologist, analyzed the largest cohort of low- and high-grade pediatric brain tumors, demonstrating the clinical utility of genomic profiling for diagnostic, prognostic, and therapeutic decision making. By identifying novel and recurring gene fusions (e.g. BRAF, NTRK, ALK fusions) in these tumors, some of which are responsive to targeted treatments, Dr. Ramkissoon and colleagues illustrate how integrating genomic profiling into the treatment of pediatric neuro-oncology patients can improve clinical management and may herald a new standard-of-care for children with brain tumors.
Bruce A. Chabner, M.D., Editor-in-Chief of The Oncologist and Director of Clinical Research, Massachusetts General Hospital Cancer Center said, "Dr. Ramkissoon's work exemplifies the contribution that modern genetic analysis can make to the understanding, and ultimately, the treatment of otherwise difficult-to-treat tumors. We are very honored to have received this important paper for publication, and have selected it as the first winner of the journal's annual award for best paper by an investigator younger than 40 years of age."
Dr. Ramkissoon obtained his MD, PhD from Rutgers - New Jersey Medical School and is a board-certified neuropathologist with expertise in adult and pediatric brain tumors. He is a Senior Director of Pathology at Foundation Medicine, Inc (FMI) and holds a joint appointment at Wake Forest Comprehensive Cancer Center (WFCCC) and Department of Pathology, Wake Forest School of Medicine, Winston-Salem, NC. Dr. Ramkissoon currently serves as the Medical Director for FMI operations at the Research Triangle Park facility in North Carolina.
--END--
Read the winning paper Comprehensive Genomic Profiling of 282 Pediatric Low‐ and High‐Grade Gliomas Reveals Genomic Drivers, Tumor Mutational Burden, and Hypermutation Signatures.
About The Oncologist: Now in its 23rd year, this internationally peer-reviewed journal focuses on clear and concise interpretation addressing the multimodality diagnosis, treatment, and quality of life of the cancer patient. Each issue is meant to impact the practice of oncology and to facilitate significant communication in the introduction of new medical treatments and technologies. The Oncologist is the official journal of the Society for Translational Oncology (STO).
About AlphaMed Press: Established in 1983, AlphaMed Press with offices in Durham, NC, San Francisco, CA, and Belfast, Northern Ireland, publishes three internationally renowned peer-reviewed journals with globally recognized editorial boards dedicated to advancing knowledge and education in their focused disciplines. THE ONCOLOGIST® (http://www.TheOncologist.com) is devoted to community and hospital-based oncologists and physicians entrusted with cancer patient care. STEM CELLS® (http://www.StemCells.com) is the world's first journal devoted to this fast paced field of research. STEM CELLS TRANSLATIONAL MEDICINE® (http://www.StemCellsTM.com) is dedicated to significantly advancing the clinical utilization of stem cell molecular and cellular biology. By bridging stem cell research and clinical trials, SCTM will help move applications of these critical investigations closer to accepted best practices.
About Wiley: Wiley, a global company, helps people and organizations develop the skills and knowledge they need to succeed. Our online scientific, technical, medical and scholarly journals, combined with our digital learning, assessment and certification solutions, help universities, learned societies, businesses, governments and individuals increase the academic and professional impact of their work. For more than 200 years, we have delivered consistent performance to our stakeholders. The company's website can be accessed at http://www.wiley.com.