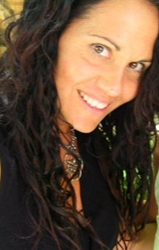 I have been awakened at every level of my being–mind, body and spirit. Thank you for the biggest transformation of my life.
Sedona, Arizona (PRWEB) August 30, 2017
Anahata Ananda of Shamangelic Healing, Sedona Arizona's Premier Center for Shamanic Healing and Spiritual Awakening, is happy to announce her "Fall Rejuvenation in Sedona" personally tailored retreats. Private healing sessions and sacred land journeys are an integral part of this restorative retreat. For those seeking deep core healing and soul awakening, these individual customized retreats also include relationship guidance, shamanic teachings, land journeys and many more soul and body rejuvenating experiences.
The "Fall Rejuvenation in Sedona" offers clients private tailored healing sessions, land journeys to sacred sites and the vortexes in the Red Rocks. With days filled with blue sunny skies and temperatures ranging from the mid-60s to low 80s, fall in Sedona is an ideal time for letting go amidst the beauty and changing colors of the leaves and landscape. Private Healing Sessions with Anahata during or after the retreat are also available. Personal sessions with Anahata offer a safe and loving space for further deep healing and spiritual awakening.
Retreats offer a powerful resource for anyone who wants to manage their stress, expand their consciousness or deepen their self-development and spiritual awakening. Meditation sessions, Land Journeys, Chakra Balancing, a Sedona vortex experience, a Shamangelic Healing journey, Guided Visualization and Medicine Wheel visits are just some of the many experiences and modalities available to clients during this retreat. Shamangelic Gift Certificates for "Fall Rejuvenation in Sedona" are also available.
The Center also offers other types of retreats where visitors can choose from packages such as the Empowerment and Awakening Weekend which offers participants intensive training in methods to shift, heal and release negative energies from their life. Shamanic Wisdom Teachings explores the in-depth soulful world of shamanic teachings, traditions, sacred ceremonies, animal spirit guides, and elemental wisdom teachings and is a complement to the other courses in the Empowerment and Awakening series.
Shamangelic Healing Center also offers Sacred Land Journeys. Anahata's Land Journeys offer participants a chance to explore and experience the powerful frequencies of Sedona's vortexes to potentiate healing and awakening in the natural beauty of Sedona's Red Rocks. Because every person experiences vortexes differently, Anahata also offers private vortex sessions where she works with the individual to tailor the ideal Sedona Vortex Journey for them. Private consultations provide a deeper personal understanding of vortexes and how a vortex can shift one's energy to meet specific healing and spiritual goals.
Shamanic Healer and Spiritual Counselor, Anahata Ananda, has trained extensively with gifted shamans, energy healers and spiritual teachers from around the world in order to artfully integrate the fields of spirituality, energy healing, self-empowerment, and shamanic teachings. Her client-base spans the globe with individuals from all walks of life who are seeking to heal and awaken to their fullest potential.
The Shamangelic Healing Center is based in Sedona, Arizona. It is nestled beneath Thunder Mountain, with 360 degrees of breathtaking views, and within walking distance to a medicine wheel and healing vortexes, making it the perfect setting for healing and expansion. Inside, the retreat center's calm and relaxed environment helps to engage all of the senses, making it easy to settle into a session. Clients seeking Spiritual awakening, transformational healing services, counseling, sacred land journeys or training courses may choose from a wide range of options that can be tailored for the ultimate personal experience.
For those unable to attend or come to Sedona, seekers of spiritual rejuvenation can enjoy a "staycation" with Anahata's inspirational videos shot in Sedona. Anahata has also created online courses on the Kajabi platform for the global audience, with convenient 24 hour access to videos and self-paced exercise handouts that help people explore the tools and practices to live a more empowered, balanced and conscious life in their everyday lives.
For detailed descriptions and a calendar of more upcoming retreats, workshops, courses, and all services offered by Anahata Ananda, visit http://shamangelichealing.com/