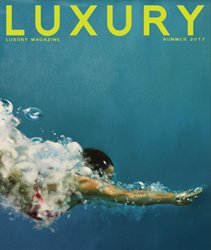 Among the most respected [Shamanic Healers] is Anahata Ananda.
Sedona, Arizona (PRWEB) July 13, 2017
Anahata Ananda of Shamangelic Healing, Sedona Arizona's Premier Center for Shamanic Healing and Spiritual Awakening, is honored to announce that she and her energy healing services is featured in the Summer 2017 issue of Luxury Magazine, an exclusive lifestyle publication that focuses on art, travel and other aspects of luxury living for an affluent audience.
Writer Nora Zelevansky interviewed Anahata Ananda for her feature article about Spiritual Sedona in Luxury's Summer 2017 issue. As more people are paying heed to the call for personal development, regardless of what stage of life or career they find themselves in, there is a growing trend of spiritual seekers among all levels of society. Shamangelic Healing creates experiences of core healing, providing a safe and powerful space that facilitates spiritual awakening. Anahata supports people in tuning into their personal truth, raising self-awareness and rising to their potential for true health and happiness.
Anahata's growing list of healing modalities includes soul guidance, intuitive readings, relationship counseling, personalized land journeys and retreats, and many more soulful mind and body experiences that are effective at awakening a person to their own miracles of transformation. But her work isn't limited to the rich or affluent, Anahata explains. Her clients range from billionaires to truck drivers. "Those who are motivated to do the deeper work find me," she says. Luxury magazine is for elite status American Express Card members and is produced exclusively for American Express Luxury card holders. Read the full article here.
Shamanic Healer and Spiritual Counselor, Anahata Ananda, has trained extensively with gifted shamans, energy healers and spiritual teachers from around the world in order to artfully integrate the fields of spirituality, energy healing, self-empowerment, and shamanic teachings. Her client-base spans the globe with individuals from all walks of life who are seeking to heal and awaken to their fullest potential.
The Shamangelic Healing Center is based in Sedona, Arizona. It is nestled beneath Thunder Mountain, with 360 degrees of breathtaking views, and within walking distance to a medicine wheel and healing vortexes, making it the perfect setting for healing and expansion. Inside, the retreat center's calm and relaxed environment helps to engage all of the senses, making it easy to settle into a session. Clients seeking Spiritual awakening, transformational healing services, counseling, sacred land journeys or training courses may choose from a wide range of options that can be tailored for the ultimate personal experience. Private Healing Sessions with Anahata are available at the Center where Anahata provides a safe and loving space for deep healing and spiritual awakening.
Shamangelic Healing Center in Sedona, Arizona also offers workshops, Sacred Vortex Land Journeys, Shamangelic Breathwork ceremonies as well as a full complement of training courses in energy healing, Shamanic teachings and tools for practitioners. Whether visitors are seeking a Weekend Intensive on Empowerment & Awakening, a soulful Tailored Sedona Retreat of Transformational Healing and Spiritual Awakening, or a Sacred Land Journey Shamangelic Healing provides profoundly empowering experiences, all among the Red Rocks.
For those unable to attend or come to Sedona, Anahata has created online courses on the Kajabi platform. Shamangelic online courses are for the global audience, with convenient 24 hour access to videos and self-paced exercise handouts that help people explore the tools and practices to live a more empowered, balanced and conscious life in their everyday lives.
For detailed descriptions and a calendar of all training courses, retreats and spiritual awakening services offered by Anahata of Shamangelic Healing Center visit https://shamangelichealing.com/