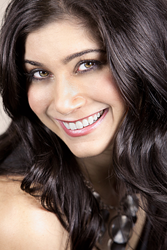 My healing session with Anahata was so uplifting. I literally got up off the table and felt so much lighter!"
Sedona, Arizona (PRWEB) May 30, 2017
Anahata Ananda of Shamangelic Healing, Sedona Arizona's Premier Center for Shamanic Healing and Spiritual Awakening, is excited to announce that she and her energy healing work was featured on the Phoenix TV weekly inspirational talk show "In the Moment," and was given rave reviews.
When talk show personality Gelie Akhenblit heard about Anahata's energy healing work through another guest, inspirational talk radio podcast host Tommy Baker, she wondered if a shamanic healing session with Anahata might help further along her own healing journey and resolve some personal challenges she was currently facing. Gelie was so impressed with Anahata's energy healing work; how much better emotionally and energetically she felt after her session, the enthusiastic co-host wanted to share her experience with her audience.
"In the Moment," a production of Inspired Media360, is a weekly TV talk show headquartered in Phoenix, Arizona that discovers and reports on inspirational and motivational stories and news from the community. Their content emphasizes how to live an inspired life, find strength or experience personal transformation. For people who are finding it increasingly difficult to manage their careers, relationships, health, and the stressful ever quickening pace of planetary change, Gelie's segment about her energy healing session with Anahata offers a refreshing reminder that our energy bodies are as capable of creating positive changes as our physical bodies.
Shamanic Healer and Spiritual Counselor, Anahata Ananda, has trained extensively with gifted shamans, energy healers and spiritual teachers from around the world in order to artfully integrate the fields of spirituality, energy healing, self-empowerment, and shamanic teachings. Her client-base spans the globe with individuals from all walks of life who are seeking to heal and awaken to their fullest potential.
The Shamangelic Healing Center is based in Sedona, Arizona. It is nestled beneath Thunder Mountain, with 360 degrees of breathtaking views, and within walking distance to a medicine wheel and healing vortexes, making it the perfect setting for healing and expansion. Inside, the retreat center's calm and relaxed environment helps to engage all of the senses, making it easy to settle into a session. Clients seeking Spiritual awakening, transformational healing services, counseling, sacred land journeys or training courses may choose from a wide range of options that can be tailored for the ultimate personal experience.
Private Healing Sessions with Anahata are available at the Center where Anahata provides personal sessions in a safe and loving space for deep healing and spiritual awakening.
Shamangelic Healing Center in Sedona, Arizona offers workshops, Sacred Vortex Land Journeys, Shamangelic Breathwork ceremonies and more. Shamangelic Healing Center in Sedona, Arizona offers workshops, Sacred Vortex Land Journeys, Shamangelic Breathwork ceremonies and more.
Shamangelic Healing Center in Sedona, Arizona offers workshops, Sacred Vortex Land Journeys, Shamangelic Breathwork ceremonies and more. Whether visitors are seeking a Weekend Intensive on Empowerment & Awakening, a soulful Tailored Sedona Retreat of Transformational Healing and Spiritual Awakening, or a Sacred Land Journey Shamangelic Healing provides profoundly empowering experiences, all among the Red Rocks.
Shamangelic also offers Shamanic Healing sessions and group workshops, as well as a full complement of training courses in energy healing, Shamanic teachings and tools for practitioners.
For those unable to attend or come to Sedona, Anahata has created online courses on the Kajabi platform. Shamangelic online courses are for the global audience, with convenient 24 hour access to videos and self-paced exercise handouts that help people explore the tools and practices to live a more empowered, balanced and conscious life in their everyday lives.
For detailed descriptions and a calendar of all training courses, retreats and spiritual awakening services offered by Anahata of Shamangelic Healing Center visit http://shamangelichealing.com/.