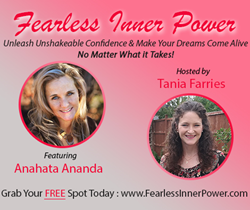 I would have loved to have been given an opportunity like this when I was first starting on my own challenging pathway to freedom!
Sedona, Arizona (PRWEB) September 20, 2017
Energy Healer and Shamanic Guide Anahata Ananda of Shamangelic Healing, Sedona Arizona's Premier Center for Shamanic Healing and Spiritual Awakening, is proud to announce her role as a featured expert and guest on the global telesummit Fearless Inner Power, with Australian host Tania Farries.
In this telesummit interview series Anahata shares her "7 Tips for Activating Your Personal Power," along with other powerful advice for activating unshakeable self-confidence. She talks about how people can, with these steps, not only cultivate their inner power, but build their confidence to the point they will feel fully prepared for meeting any of life's challenges, even those they find most difficult or seemingly insurmountable. This series runs from October 1–25, 2017.
With over 20 other experts all sharing their life changing tools and experiences, the Fearless Inner Power Summit is designed to help people unleash their innate power and discover simple steps for taking a quantum leap into the life they want live. Fearless Inner Power brings stories, wisdom and tips from leading self-development, personal and spiritual wellness experts, energy healers and other visionaries from around the world to audiences who thirst for knowledge about awakening to a life of empowerment, resiliency, self-actualization, and spiritual fulfillment. Registration for free access to this uplifting online event is open Sept. 16--29, 2017.
Shamanic Healer and Spiritual Counselor, Anahata Ananda has trained extensively with gifted shamans, energy healers and spiritual teachers from around the world in order to artfully integrate the fields of spirituality, energy healing, self-empowerment, and shamanic teachings. Her client-base spans the globe with individuals from all walks of life who are seeking to heal and awaken to their fullest potential.
The Shamangelic Healing Center is based in Sedona, Arizona. It is nestled beneath Thunder Mountain, with 360 degrees of breathtaking views and within walking distance to a medicine wheel and healing vortexes, making it the perfect setting for healing and expansion.
Inside, the retreat center's calm and relaxed environment helps to engage all of the senses, making it easy to settle into a session. Clients seeking Spiritual awakening, transformational healing services, counseling, sacred land journeys or training courses in energy healing or the shamanic tradition may choose from a wide range of options that can be tailored for the ultimate personal experience.
Private Healing Sessions with Anahata are also offered at the Shamangelic Healing Center in Sedona, Arizona where she provides a safe and loving space for deep healing and spiritual awakening. Shamangelic Healing also offers Shamanic Healing sessions and group workshops, Sacred Vortex Land Journeys, Shamangelic Breathwork ceremonies, as well as a full complement of training courses in energy healing, Shamanic teachings and tools for practitioners.
Whether visitors are seeking a Weekend Intensive on Empowerment and Awakening, a soulful Tailored Sedona Retreat of Transformational Healing and Spiritual Awakening, a Sacred Land Journey, or a Shamangelic Breathwork ceremony, Shamangelic Healing provides profoundly empowering experiences, all among the Red Rocks.
The next Empowerment and Awakening Weekend Intensive, October 12--15, 2017, offers practices for maintaining healthy conscious relationships, balancing and clearing one's energy, maintaining clear boundaries, and more tools for maintaining vibrant health and creating a deeper spiritual connection.
For those unable to attend or come to Sedona, Shamangelic also has online courses with Anahata offering more inspiring content through videos, with handouts and exerices for empowerment and awakening.
For detailed descriptions and a calendar of all training courses, retreats and spiritual awakening services offered by Anahata of Shamangelic Healing Center visit http://shamangelichealing.com.