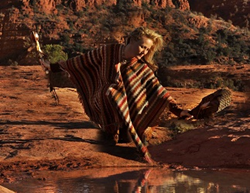 By raising our vibration we will change and raise the vibration of the world; but it all begins within the individual.
Sedona, Arizona (PRWEB) September 11, 2017
Sedona Healer and Shamanic Teacher Anahata Ananda of Shamangelic Healing, Sedona Arizona's Premier Center for Shamanic Healing and Spiritual Awakening, is proud to announce her featured guest appearance as an expert on the Medicine Wheel in an enlightening discussion with Ancient Healings Around the World video blogger, medical intuitive and energy healer Sherry Methling.
Ancient Healings focuses on intuitive and energy healing modalities that have been employed throughout the ages to help people align physically, emotionally and spiritually. Sherry Methling is a medical and spiritual intuitive who uses her natural born gifts to transform other people's lives.
Through various energy healing modalities based on the laws and expression of energy physics and quantum physics, Ancient Healings Around the World aims to educate and awaken people to their innate healing powers.
In this video interview Anahata and Sherry talk about the meaning and spiritual attributes of the Medicine Wheel and how it can be used as a modern day tool for balance, clearing and well-being. The Medicine Wheel, explains Anahata, is one ancient healing vehicle that has stood the test of time as a powerful agent for change. Its directional and elemental components are especially significant in today's modern day society where people are woefully less connected to the rhythms and seasons of Mother Earth and are craving direction.
Energy medicine, raising one's vibrations, is about transforming one's belief systems, working with negative programming, removing self-doubt and shifting one's physical dis-ease into alignment with their most radiant self. In this sense the Medicine Wheel acts as a compass of compassion and guidance. It is an extraordinarily powerful tool for release and rebalancing. "By raising our vibration we will change and raise the vibration of the world; but it all begins within us, the individual," says Anahata.
This comprehensive discussion of the Medicine Wheel and its history is for anyone who wants to learn more about the four directions and their attributes, Native American mysticism, spiritual healing, sacred ceremony, land journeys, spiritual counsel, and the many other ways a Medicine Wheel experience can be useful in connecting one to the earth and grounding one's soulful purpose.
A Vortex Medicine Wheel journey with Anahata is especially powerful as it takes place among the energy spirals of the Sedona Vortexes emanating from the land where the Medicine Wheel resides. "Because we are made of the same elements as the earth, it will move a person's energy whether they are aware of it or not," says Anahata.
Anahata is also offering Shamanic Wisdom Teachings, October 21-- 23, 2017, a course which explores the in-depth soulful world of Shamanism, its traditions, sacred ceremonies, animal spirit guides, and elemental wisdom teachings.
Shamanic Healer and Spiritual Counselor, Anahata Ananda has trained extensively with gifted shamans, energy healers and spiritual teachers from around the world in order to artfully integrate the fields of spirituality, energy healing, self-empowerment, and shamanic teachings. Her client-base spans the globe with individuals from all walks of life who are seeking to heal and awaken to their fullest potential.
The Shamangelic Healing Center is based in Sedona, Arizona. It is nestled beneath Thunder Mountain, with 360 degrees of breathtaking views and within walking distance to a medicine wheel and healing vortexes, making it the perfect setting for healing and expansion. Clients seeking Spiritual awakening, transformational healing services, counseling, sacred land journeys or training courses in energy healing or the shamanic tradition may choose from a wide range of options that can be tailored for the ultimate personal experience.
Private Healing Sessions with Anahata are also offered at the Shamangelic Healing Center in Sedona, Arizona where she provides a safe and loving space for deep healing and spiritual awakening. Shamangelic Healing also offers Shamanic Healing sessions and group workshops, Sacred Vortex Land Journeys, Shamangelic Breathwork ceremonies, as well as a full complement of training courses in energy healing, Shamanic teachings and tools for practitioners.
Whether visitors are seeking a Weekend Intensive on Empowerment and Awakening, a soulful Tailored Sedona Retreat of Transformational Healing and Spiritual Awakening, a Sacred Land Journey, or Sedona Courses, Shamangelic Healing provides profoundly empowering experiences, all among the Red Rocks.
For detailed descriptions and a calendar of all training courses, retreats and spiritual awakening services offered by Anahata of Shamangelic Healing Center visit http://shamangelichealing.com/.