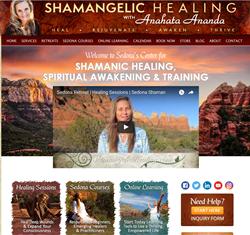 Sedona, Arizona (PRWEB) March 31, 2017
Shamanic healer and teacher Anahata Ananda and Shamangelic Healing Center, Sedona, Arizona's Premier Center for Shamanic Healing and Spiritual Awakening, is excited to unveil the center's newest streamlined website.
With Shamangelic Healing's new automated online booking and registration system it's now easier and quicker than ever for clients to use the calendar portal to secure a spot for private energy healing sessions, shamanic training, online courses and other services for personal development and spiritual awakening.
Shamangelic's new comprehensive inquiry form makes it easy for clients to book energy healing services and personally tailored retreats with Anahata that are designed specifically with their needs in mind.
Whether visitors are seeking a private counseling session with Anahata or intensive practitioner training, Shamangelic Healing provides a full complement of spiritual awakening services and energy healing courses. Anahata's signature private session, Shamangelic Healing Journey, is a tailored session designed to help clients address personal issues such as emotional wounds, past traumas, spiritual awakening, relationship concerns, physical health issues, grief, addiction challenges, life purpose guidance or other key concerns.
Anahata is also available for group retreats and workshops, sacred vortex land journeys with hikes along Sedona's powerful red rocks, crystal caves and medicine wheels, Shamangelic Breathwork Ceremonies, a powerful modality for releasing heaviness and restoring inner peace and clarity to those who practice it, shamanic teachings and more at Shamangelic Healing Center in Sedona, Arizona.
Shamanic Healer and Spiritual Counselor, Anahata Ananda, has trained extensively with gifted shamans, energy healers and spiritual teachers from around the world in order to artfully integrate the fields of spirituality, energy healing, self-empowerment and shamanic teachings. Her client-base spans the globe with individuals from all walks of life who are seeking to heal and awaken to their fullest potential.
The Shamangelic Healing Center is based in Sedona, Arizona. It is nestled beneath Thunder Mountain, with 360 degrees of breathtaking views and within walking distance to a medicine wheel and healing vortexes, making it the perfect setting for healing and expansion.
Inside, the retreat center's calm and relaxed environment helps to engage all of the senses, making it easy to settle into a session. Clients seeking Spiritual awakening, transformational healing services, counseling or training courses may choose from a wide range of options that can be tailored for the ultimate personal experience.
For those who are ready to deepen their connections to the land, Shamangelic also offers the powerful Shamanic Soul Retreat. Retreats offer a powerful resource for anyone who wants to manage stress, expand their consciousness and deepen their self-development and spiritual awakening.
For detailed descriptions and a calendar of all training courses, retreats and spiritual awakening services offered by Anahata visit http://shamangelichealing.com/