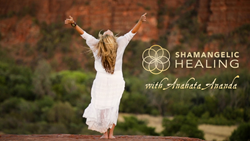 SEDONA, Ariz. (PRWEB) January 14, 2019
Shamangelic Healing with Anahata Ananda, based in Sedona, Arizona has been a growing sanctuary for clients to come for Shamanic healing sessions. For over twenty years, Anahata has been sought out for her expertise across a wide variety of modalities ranging from facilitating group Empowerment and Awakening Weekend Intensives to personal and couples healing sessions. ShamangelicHealing.com has recently been upgraded to reflect new offerings, streamline the booking process and provide a one-stop place to access inspirational resources, podcast interviews, upcoming retreat information and detailed descriptions of the session styles.
Anahata recently completed her certification as a High Performance Coach through Brendon Burchard's High Performance Institute, which is now a new layer to what she offers through her sessions. Anahata regularly offers group retreats and events in the spring and fall. The Empowerment and Awakening Weekend Intensive occurs in March and October, yearly. She facilitates large groups in Sedona, Arizona to provide the tools required to live a thriving life. She offers a ladies-only, all inclusive Goddess Retreat in the springtime where women come to heal, share and turn their lives around. Throughout the year, Anahata provides tailored group retreats where clients can choose from all her session options across multiple days for a very focused, goal-oriented outcome.
"The new site is so beautiful and easy to navigate," says Anahata. "I have my podcast interviews, inspirational blog and soon to be launched Shamangelic Healing podcast page along with the services I offer." Clients can find information on Anahata's signature session, the Shamangelic Healing Journey, Breathwork Ceremonies, Conscious Relationships sessions, Maintaining Clear Boundaries in Personal and Professional Relationships, Vortex Land Journeys, Chakra Balancing sessions and several more.
"I envisioned ShamangelicHealing.com to be a place people can visit to have access to life changing tools for free, well as to learn about what I provide if they want to go deeper into their healing with me in a private session setting," Anahata shares. She provides in-person sessions in Sedona, Arizona conveniently located in the Uptown area close to the shops, restaurants and hiking trails.
For those who come across the new ShamangelicHealing.com website that are not able to come to Sedona, Anahata offers several online programs. Her year-long Quantum Leap Program for a high-performance life-upgrade is the latest to be made available. Courses on meditation techniques, a journey through the chakra energy systems, conscious relationships, vibrant health and how to maintain clear boundaries can also be found through the new website.
Anahata Ananda has trained extensively with gifted shamans, energy healers and spiritual teachers from north America, Peru, India and Asia in order to artfully integrate the fields of self-empowerment, shamanic teachings, emotional release, energy healing, relationship counseling, spiritual studies, yoga, meditation and empowered living. She has completed the highest level of global coaching certification program with Brendon Burchard. Anahata is a certified yoga teacher and master meditation teacher.
For detailed descriptions and a calendar of all training courses and spiritual awakening services offered by Anahata visit http://www.shamangelichealing.com/