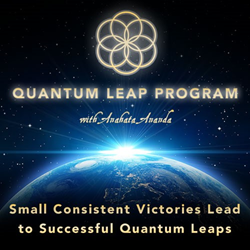 It's Time to step into your Greatness!
SEDONA, Ariz. (PRWEB) September 30, 2018
For decades, Shamanic healer, Anahata Ananda has guided thousands of clients through transformational shifts with her Shamangelic Healing sessions. Her style of blending her background with Shamanic tools, teachings, world wide travels, and ability to convey traditional practices with modern day challenges, are just a few reasons people travel to Sedona to learn from her. After facilitating the Empowerment and Awakening Weekend Intensive for several years, the most current one coming up October 11 – 14, 2018, Anahata came to realize there is a global need for what she teaches.
She adamantly states, "It is time to step into your greatness. Enough playing small, no more excuses. Get the support, inspiration, tools, motivation, resources, accountability and community you need to manifest your Greatness!" She has created a way for a broader audience to have access to what she has learned throughout her life. Anahata recently announced the 2019 Quantum Leap Coaching Program with monthly Inspirational instructional videos, monthly assignments, worksheets and action plans. This is all done though an online portal accessible when the time is most convenient for the students.
"Never before has there been such an outpouring of requests for continued support during this time of Quantum Manifestation", exclaims Anahata. Inspired by her clients and followers, she has created the Quantum Leap Program to share what she calls her "Roadmap to Thriving." The course builds on new perspectives each month in the areas of breaking old patterns, creating greater life balance, shifting limited beliefs, staying motivated and, manifesting and achieving, quantum results.
Anahata offers a mastermind weekend intensive in Sedona, Arizona for those who join the VIP program. They have access to her personalized coaching and live teaching, in a small group setting. Everyone attending the weekend retreat receives a Shamangelic Healing Journey, her signature session for deep, core healing.
The course begins in December 2018 with access being granted to content relative to implement during situations happening during the busy holiday season. "These powerful techniques for conscious relationship interactions and maintaining life balance during the holidays can be put to use immediately!", Anahata excitedly shares. The Quantum Leap Program comes with access to a private Facebook Group only students can join, where they can support and encourage each other throughout the year.
Anahata facilitates two other empowerment courses yearly in addition to the Quantum Leap program. The Shamangelic Empowerment & Awakening Weekend Intensive, twice a year, and the Goddess Empowerment Retreat in the spring. All Anahata's teachings revolve around meeting clients and students where they are in their lives and offering proven tools and resources to implement immediately to manifest success in all areas they focus on.
Anahata Ananda has trained extensively with gifted shamans, energy healers and spiritual teachers from around the world to artfully integrate the fields of spirituality, energy healing, self-empowerment and shamanic teachings. Her client-base spans the globe with individuals from all walks of life who are seeking to heal and awaken to their fullest potential.
Anahata offers a variety of Shamangelic Healing services year-round, including private sessions, sacred land journeys and training courses that incorporate Shamanic teachings and other energy healing modalities. She also offers Tailored Retreats for individuals, couples and small groups that can include a combination of private healing sessions, sacred land journeys and other offerings based on various needs and areas of interest.
Shamangelic Healing is a sanctuary for Shamanic healing and spiritual awakening in Sedona. It is nestled beneath Thunder Mountain with breathtaking views and within walking distance to a medicine wheel and healing vortexes, making it the perfect setting for healing and expansion.
For detailed descriptions and a calendar of all training courses and spiritual awakening services offered by Anahata visit http://www.shamangelichealing.com/