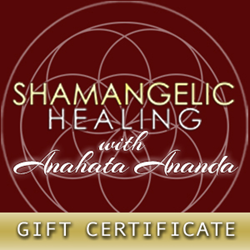 The gift of an experience, is forever memorable
SEDONA, Ariz. (PRWEB) November 10, 2018
Anahata Ananda is currently offering Gift Certificates for her Shamangelic Healing services for the holidays. The recipient has 12 months to apply the gift certificate amount to any private healing session, retreat, training program or online course with Anahata.
Shamangelic Tailored Retreats are a powerful gift for anyone needing to manage stress, address deep core emotional issues, or looking to enjoy a guided spiritual awakening journey among the vortex sites of Sedona. These personalized retreats offer a chance for deep relaxation among the healing energies of Sedona's red rocks. Meditation sessions, land journeys, chakra balancing, a Shamangelic Healing Journey, Shamangelic breathwork, and Medicine Wheel visits are just some of the many experiences and modalities available to choose from.
Shamangelic Healing Holiday Gift Certificates offer a convenient and unique way to give the gift of healing to family, friends or employees this holiday season. Gift certificates can be purchased in increments of $50 to $1000 and are good toward in-person sessions with Anahata, online courses and retreats.
Gift certificates may be used toward Shamangelic events in Sedona as well. The first event scheduled is the transformational Empowerment and Awakening Weekend Intensive, March 21-24, 2019. This retreat gives participants the tools and practices for creating healthier, more conscious relationships in their lives. In the spring, Anahata and Janet Farnsworth offer the all-inclusive, ladies only, Goddess Empowerment Retreat from April 24-28, 2019 which is dedicated to awakening, cultivating, nurturing and celebrating the Divine Feminine Goddess.
For those unable to come to Sedona, gift certificates can also be applied to any of the online Empowerment & Awakening courses. Meditation and vibrant health practices, awakening the chakras, maintaining healthy conscious relationships and balancing masculine and feminine traits are some of the available choices. The self-paced classes with downloadable action plans coincide with inspiring video content filmed among the beauty of the red rocks of Sedona.
For a more intensive, 12-month online course, with access to private group participation, the Quantum Leap Program begins in December 2018 with videos and integration exercises released monthly. The gift certificates may be applied to this program, as well as to the Quantum Leap VIP Program, which includes a weekend retreat in Sedona, personalized phone counseling with Anahata, free admission to any 2019 Empowerment and Awakening Sedona course, and Brendon Burchard's High Performance Academy.
Anahata Ananda is a Shamanic Healer, Soul Guide and founder of Shamangelic Healing. She blends the compassion and tenderness of an Angel and the wisdom and strength of a Shaman to guide profound journeys of core healing and spiritual awakening. Anahata has guided thousands of individuals from all walks of life through core life shifts, helping them to turn their life around and create the life of their dreams. She masterfully creates a safe and loving space for inward transformational journeys that empower individuals to release their fears, open their hearts and reclaim their power. She has trained extensively with gifted Shamans, energy healers and spiritual teachers from North America, Peru, India and Asia in order to artfully integrate the fields of self-empowerment, Shamanic teachings, emotional release, energy healing, relationship counseling, spiritual studies, yoga, meditation and empowered living.
For detailed descriptions and a calendar of all training courses and spiritual awakening services offered by Anahata visit http://www.shamangelichealing.com/