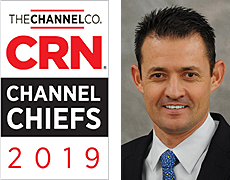 "This recognition of Tripp Lite's channel loyalty is added motivation for us to keep strengthening our partner relationships as we continue to offer expert advice, user-friendly resources, and the best value in power and connectivity products."
CHICAGO (PRWEB) February 13, 2019
Each of the 2019 Channel Chiefs has demonstrated exceptional leadership, vision, and commitment to their channel partner programs. Channel Chief honorees are selected by CRN's editorial staff as a result of their professional achievements, standing in the industry, dedication to the channel partner community, and strategies for driving future growth and innovation.
Kilfoil was selected for his leadership of Tripp Lite's domestic and international sales and sales support organizations. Tripp Lite offers more than 4,000 products to power and connect businesses worldwide and is able to ship inventory quickly, allowing channel partners to meet the needs of their customers. Tripp Lite partners also benefit from pre-sales support, lead qualification, lead referrals, and field sales support. To maximize partners' unassisted web sales, Tripp Lite provides a wide variety of tools and resources, including enhanced marketing content.
"The individuals on CRN's 2019 Channel Chiefs list deserve special recognition for their contribution and support in the development of robust partner programs, innovative business strategies, and significant influence to the overall health of the IT channel," said Bob Skelley, CEO of The Channel Company. "We applaud each Channel Chief's remarkable record of accomplishments and look forward to following their continued success."
"Being named a 2019 Channel Chief is the result of the hard work and dedication of everyone at Tripp Lite and our channel partners," said Kilfoil. "This recognition of Tripp Lite's channel loyalty is added motivation for us to keep strengthening our partner relationships as we continue to offer expert advice, user-friendly resources, and the best value in power and connectivity products."
The 2019 CRN Channel Chiefs list, including the 50 Most Influential Channel Chiefs, is featured online at http://www.crn.com/channelchiefs and will appear in the February 2019 issue of CRN.