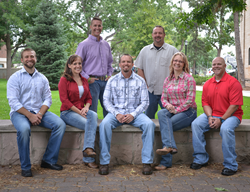 Colorado Springs, CO (PRWEB) August 03, 2017
The Shane Ray Team (Shane Ray, Katie Harms, Dave Uebelhoer, Ethan Panariso, Kris Rice and Mark Hubert) is inviting friends, family and clients to its summer BBQ on Sunday, August 27, from 12-4 p.m. at Bear Creek Regional Park, Large Pavilion #1, in Colorado Springs. The cookout is a benefit for the Springs Rescue Mission. The Shane Ray Team will be working with COSILoveYou, a movement of diverse organizations and people who share a heart and passion for the city of Colorado Springs and are determined to make a difference.
"We're providing the food, drinks and fun, and we're asking everyone to bring a donation for the Springs Rescue Mission," said Realtor Shane Ray, founder of the Shane Ray Team at RE/MAX Properties, Inc. "Items needed include reuseable water bottles, razors, sunscreen, socks, lip balm/gloss, snacks, Kum and Go gift cards ($5 max), combs/brushes, backpacks, Family Dollar gift cards ($5 max), spa/shave kits, hand towels, soaps, coffee gift cards (Urban Steam, Montagues, Starbucks) and Seeds Café cards."
The vision of the Springs Rescue Mission is to see lives transformed and filled with hope as the community works together to fight homelessness, poverty and addiction. Its mission is to mobilize the community to provide relief, rehabilitation and empowerment services.
Springs Rescue Mission provides life-sustaining aid, a welcoming and safe environment that promotes transformation and empowerment and pathways out of homelessness. No one is denied services because of race, color, creed, sex or national origin. It recently started a Healthy Engagement program for guests, providing opportunities for them to participate in productive tasks to encourage responsibility and stewardship of Springs Rescue Mission facilities.
To donate directly to Springs Rescue Mission, please visit https://donate.springsrescuemission.org/donate.
The Shane Ray Team is a group of professional Realtors who service Colorado Springs and the surrounding areas, including Monument, Falcon, Peyton, Woodland Park and Fountain.
About Shane Ray, RE/MAX Properties, Inc.
Shane Ray has lived in Colorado Springs since 1983 and has been helping people in the Springs area buy and sell homes since 2006. He has achieved Quality Service Certified Platinum status, which is the highest level of client satisfaction service achievement in the real estate industry. For more information, please call (719) 447-7915, or visit http://www.realtorshaneray.com. His office is located at 1740 Chapel Hills Drive, Colorado Springs, CO 80920.
About the NALA™
The NALA offers small and medium-sized businesses effective ways to reach customers through new media. As a single-agency source, the NALA helps businesses flourish in their local community. The NALA's mission is to promote a business' relevant and newsworthy events and achievements, both online and through traditional media. The information and content in this article are not in conjunction with the views of the NALA. For media inquiries, please call 805.650.6121, ext. 361.