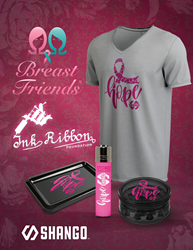 "To see that our donations will directly affect women who have suffered the traumas associated with breast cancer surgery makes our partnership both charities special," Rexroad said. "To see how grateful these two charities have been makes us want to work harder in this next campaign."
LAS VEGAS (PRWEB) October 01, 2019
Shango's annual campaign to assist breast cancer support charities in Oregon and Nevada is underway with pink merchandise sales at three dispensaries. Shango locations in Portland and
Las Vegas will donate 100 percent of net proceeds from pink sales to Breast Friends of Oregon and Ink Ribbon Foundation in Las Vegas.
Shango has created pink merchandise that includes unisex T-shirts, grinders, rolling trays and lighters on sale at its Boulder Highway location in Las Vegas and its Win Sivers and Harold Street locations in Portland. Shango's pink clothing sales have been particularly successful the past two years.
"Shango believes in building long-term relationships with purposeful local charities," said Brandon Rexroad, Founder/CEO of Shango. "We identify charities that are in the same geographic area as our dispensaries. This helps us become part of the fundraising while getting to know those who work for that charity."
Breast Friends is a nonprofit organization dedicated to improving the quality of life for female cancer patients. The organization teaches friends and family specific ways to offer support, helps them understand what their loved one is going through, and suggests resources for the woman and for those who care.
The volunteers who make up Breast Friends of Oregon believe humor is often the best medicine. For those who face the horrors of breast cancer, laughter is a valuable commodity. Breast Friends helps cancer patients nationwide keep their sense of humor with the creation of hats with funny quips.
"Tackling a tough situation 'head-on' is often the key to getting to the other side," says Allison Hancock, executive director at Breast Friends. "We believe a healthy dose of humor can also help!"
Breast Friends sends humorous hats, free of charge, to women in the United States who are undergoing chemotherapy due to breast, ovarian or other gynecological cancers and are experiencing hair loss. They have a choice of pink or blue hats decorated with a humorous message such as "Has Anyone Seen My Hare" complete with a silly rabbit, or "Temporarily Bald, Permanently Beautiful" with a woman striking a pose."
"These can help turn the heartbreak of hair loss into an opportunity for laugh therapy," Hancock says.
Ink Ribbon breast cancer charity founder Kim Maddi had to adjust her plans for 2019 after raking in more donations than she expected last year. As a fledgling nonprofit, every person she helps with a cosmetic tattoo is a monumental achievement. Maddi had hoped to sponsor one or two women for cover-up tattoos and makeovers in 2019. After Shango Las Vegas dispensary partnered with Ink Ribbon Foundation during Breast Cancer Awareness Month, her goals expanded.
"We just finished our fifth recipient this year," Maddi said.
Ink Ribbon provides cancer survivors in the Las Vegas area either mastectomy scar cover-up tattoos or areola restorative tattoos. Each woman also receives a photo shoot and a hair and makeup session. In all, the services provided come to $1,000 per client.
"I wanted a way to give back to my new community of survivors in a real and tangible way, while also making mastectomy scar cover up tattoos more mainstream and accessible to those who want it," Maddi said. "We are a little on the edgy side, which is why a partnership with the non-traditional side of natural medicine is a perfect fit."
Maddi said last year's campaign "has definitely changed our goals. Ink Ribbon Foundation is honored to accept donations from cannabis companies. I have been blown away by the professionalism within the cannabis community."
Shango documents the path of the donations and provides photos and story information to the public. Photos are posted online and made available to the press and to the charities for posting and other uses.
"This is an amazing opportunity for Shango to be able to help out charities with the foresight to recognize the potential benefits of medical cannabis for pre- and post-surgery situations." said Rexroad. "We admire their courage."
"To see that our donations will directly affect women who have suffered the traumas associated with breast cancer surgery makes our partnership both charities special," Rexroad said. "To see how grateful these two charities have been makes us want to work harder in this next campaign."
Shango's other areas of charitable giving also include aid to VFW programs and disaster relief. Shango also provides an educational platform on cannabis and CBD use including appearances at local health fairs and also offers private consultations for anyone currently fighting cancer.
About Shango
Shango is an established, vertically integrated cannabis brand offering a full range of award-winning products, including flower, extracts and cannabis-infused edibles, produced by select cultivators and processors in Oregon and Nevada. The Shango brand is licensed to three full-service recreational and medical cannabis dispensaries in Oregon and Nevada. Shango is expanding and has licenses in Michigan and California and soon will be opening its first retail location in Lapeer, Mich., later this year, then Moreno Valley, CA, shortly thereafter. A recognized leader in the cannabis industry, Shango sets the standard for product quality, consistency and business conduct. Shango is committed to cannabis education and is a fierce advocate of the safe and responsible use of cannabis products. Shango Las Vegas is located at 4380 Boulder Highway, Las Vegas, NV, 89121. Call 702.444.4824 for more information. Shango dispensaries are located at 8056 SE Harold St., (Located at 82nd and Foster), Portland; and Shango Win Sivers, 6033 NE Win Sivers Drive, (by the airport). For more information, visit http://www.goshango.com.