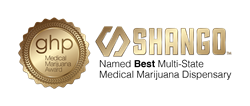 "To be named the best in the U.S. by an international medical media organization is a great honor," Shango Founder and CEO Brandon Rexroad said. "To be recognized by healthcare and pharmaceutical specialists really validates our hard work."
LAS VEGAS (PRWEB) September 14, 2020
Shango Cannabis won the title of Best Multi-State Medical Cannabis Dispensary in the United States for 2020. The honor was awarded by the international healthcare publisher, Global Health & Pharma (GHP), in its 5th annual Healthcare & Pharmaceutical Awards competition.
The awards highlight innovation within the pharmaceutical and healthcare industries by recognizing the "forward thinkers who bring crucial new ideas and products to the forefront in one of the world's most demanding and competitive sectors."
"To be named the best in the U.S. by an international medical media organization is a great honor," Shango Founder and CEO Brandon Rexroad said. "To be recognized by healthcare and pharmaceutical specialists really validates our hard work."
"Receiving the right kind of care has the potential to transform a way of life by improving wellbeing and enabling those most vulnerable to experience a fulfilling lifestyle," a GHP contest executive said. "The Healthcare & Pharmaceutical Awards 2020 commend the tireless work undertaken by companies, individuals and initiatives that contribute toward promoting the physical and mental welfare of those in need of support."
GHP selected Shango by using "an extensive research and judging process that is driven by merit and centered around an in-depth evaluation of skills and services offered." No fees were paid to qualify for this award.
Contest guidelines stated that awardees had to "demonstrate expertise within their field, dedication to customer service and a commitment to promoting excellence." They also had to be "accountable for meeting the diverse health needs of millions of individuals across the world."
According to GHP, "This approach enforces Global Health & Pharma's stance that victors are not determined by popularity of votes, but by their contributions to their industry. Regardless of how large or small a business may be, all participants in the Healthcare & Pharmaceutical Awards are judged purely on merit" and "only the most deserving are acknowledged."
GHP employed an impartial panel of five individuals to conduct the research. The team gathered information independently from a variety of publicly accessible sources that were assessed alongside any material supplied by a nominating party or the nominee.
Final judgment was based on various criteria, including business performance, longevity, sustained or rapid business growth and any significant innovations or feedback.
"We are pleased and proud that the Shango brand met or exceeded their rigorous standards," Rexroad said.
About Shango
Shango is an established vertically integrated cannabis brand offering a full range of award-winning products, including flower, extracts and cannabis-infused edibles, in Oregon, Michigan and Nevada. The Shango brand has multiple full-service recreational and medical cannabis dispensaries in Oregon and Nevada, as well as a medical cannabis provisioning center in Michigan.
Shango will soon open a provisioning center in Bay City, Michigan, and a state-of-the-art cannabis distribution operation in Southern California. The company is also set to open the first of three Missouri dispensaries in December 2020. In Q2 2020, Shango's Michigan operations will add a provisioning center in Hazel Park, as well as two extraction facilities, a commercial kitchen and an indoor cultivation facility.
A recognized leader in the cannabis industry, Shango sets the standards for product quality, consistency and business conduct. Shango is committed to cannabis education and is a fierce advocate of the safe and responsible use of cannabis products. For more information, go to http://www.goshango.com.