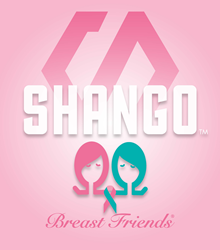 "We're in the fourth year of our partnership with Breast Friends," said Randy Oliver, General Manager of Retail Operations at Shango Portland. "And we just love this organization, its mission, its staff and the women they serve.
PORTLAND, Ore. (PRWEB) November 12, 2020
The Shango cannabis dispensary in Portland, OR is donating $2,808 to its adopted local charity partner, Breast Friends of Oregon. The amount includes direct donations from Shango's customers, as well as matching funds from the company and its employees that more than doubled the total customer donations.
"We're in the fourth year of our partnership with Breast Friends," said Randy Oliver, General Manager of Retail Operations at Shango Portland. "And we just love this organization, its mission, its staff and the women they serve.
"This has been a tough year for everyone," Oliver continued. "Between COVID and the economy, Breast Friends has struggled to provide the counseling, resources and support women need to fight and survive cancer. That's why we think it's so cool that more than 100 Shango customers stepped up to help out women in their own community."
Shango's budtenders and staff actively educated their customers about Breast Friends and encouraged them to donate. Those who did received special Shango pink ribbon stickers to show their support. Breast Friends patients and survivors received a coupon code for 20% off of their next Shango purchase.
Breast Friends will use the funds to help women cancer victims, as well as their families and friends, by sponsoring a weekly podcast that focuses on the importance of "being there" for patients and survivors as they cope with this life-threatening disease. It also highlights the role cannabis can play during treatment and recovery.
The podcast is a critical outreach for Breast Friends that draws 10,000 to 15,000 weekly listeners on the VoiceAmerica.com health and wellness channel. The program airs live on Wednesdays at 9 a.m. Archived episodes are available on-demand on the Breast Friends website.
"Shango's donation will help us move forward during these unprecedented times," said Allison Hancock, Executive Director of Breast Friends. "Cancer doesn't stop and neither will Breast Friends. Shango's support is greatly appreciated and encourages us to continue to provide help and hope to women who need us during a difficult time."
"Shango believes in building long-term relationships with purposeful local charities," said Julie Dubocq, Shango Controller. "We seek out charities in the same communities as our dispensaries. This helps us get to know those who work for each charity and become directly involved in its mission and fundraising."
Shango raises money for breast cancer charities by asking customers for in-store donations and selling Shango-branded pink merchandise during Breast Cancer Awareness Month. All of the proceeds from merchandise sales are donated to Shango's partner charities. According to Dubocq, these efforts have been particularly successful in the past two years.
"Shango wants to help worthwhile organizations that make a real difference in someone's life," Dubocq said. "Rather than donating to a general fund, we provide money and services to charities that deliver immediate results. And with Breast Friends, it is easy to see the results.
"This is also an amazing opportunity for Shango to be able to help out a charity that recognizes and promotes the potential benefits of medical cannabis to patients before and after surgery." Dubocq added. "We admire their courage."
"Shango has given us a whole new perspective on cannabis," said Breast Friends Co-Founder Becky Olson. "We are glad they found us. Our position has always been that breast cancer doesn't discriminate, and neither do we."
"If someone fighting cancer needs special attention, we will give it to them," Dubocq said. "And we'll help them understand how cannabis can be a powerful ally in their fight."
Photos are available online to the press and to the charities for posting and other uses.
###
About Shango
Shango is an established vertically integrated cannabis brand offering a full range of award-winning products, including flower, extracts and cannabis-infused edibles, in Oregon, Michigan and Nevada. The Shango brand has multiple full-service recreational and medical cannabis dispensaries in Oregon and Nevada, as well as a medical cannabis provisioning center in Michigan.
Shango will soon open a provisioning center in Bay City, Michigan, and a state-of-the-art cannabis distribution operation in Southern California. The company is also set to open the first of three Missouri dispensaries in December 2020. In Q2 2020, Shango's Michigan operations will add a provisioning center in Hazel Park, as well as two extraction facilities, a commercial kitchen and an indoor cultivation facility.
A recognized leader in the cannabis industry, Shango sets the standards for product quality, consistency and business conduct. Shango is committed to cannabis education and is a fierce advocate of the safe and responsible use of cannabis products. For more information, go to http://www.goshango.com.
About Breast Friends
Breast Friends is a nonprofit organization dedicated to improving the quality of life for female cancer patients and survivors. Its mission is to help women overcome the trauma of cancer one friend at a time.
Breast Friends helps family and friends understand what their loved ones are going through, and learn how to encourage and promote their recovery. It also suggests resources that further support patients, survivors and caregivers. A number of programs developed by Breast Friends have proven valuable in assisting and reassuring the patient, her friends and family. Breast Friends programs are designed to ensure proper support is given and received.
Statistics show that every woman in America will be touched by breast cancer or other women's cancers. One in eight women will be diagnosed, and the other seven will know her. The Breast Friends goal is to reach the seven in order to help the one.
The organization has helped thousands of local patients and their families. Breast Friends of Oregon has a prosthesis, bra and wig closet and offers products free to women who have little or no funds available to purchase them. The group's Facebook page is Breast Friends of Oregon.