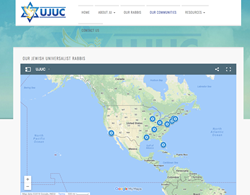 Rabbi Cantor Robbi Sherwin fosters an "attitude of high altitude gratitude" at her 6000 foot Colorado community.
NEW YORK (PRWEB) September 04, 2018
The Union of Jewish Universalists Communities' Rabbis and Congregations will be offering joyful and awesome services for the Jewish High Holidays this year. To learn more or find services near you visit http://www.ujuc.org to view the map where UJUC communities can be found around the country and globe. Rabbi Steve Blane of Sim Shalom Online Synagogue will lead live Jazz inspired services for the 5th year at the Bitter End in Manhattan that wlll be streamed globally.
Rabbi Cantor "Rockin'" Robbi Sherwin of Austin, Texas, just began a new pulpit with the Wood River Jewish Community in Ketchum/Sun Valley, Idaho. A true "Mountain Rabbi" (she served in Crested Butte, Colorado for 11 years), Robbi plans to bring in the Yamim Nora'im at 6,000 feet with a musical combination of traditional and contemporary themes, tashlich in clean, mountain streams and worship on skis - all while continuing to foster an "attitude of high altitude gratitude."
Rabbi Nancy Tunick, founding UJUC Rabbi, will be leading services for Rosh Hashanah and Yom Kippur at Temple B'nai Israel in Florence, AL. Everyone is welcome and there are no tickets required. Services are music filled and also incorporate congregation participation celebrating and petitioning God with different voices combined into one, echad.
Reb Tuviah Schreiber has been the Rabbi of Temple Beth David in Spring Hill, Florida since September 2016. In addition to Rosh Hashana and Yom Kippur services they offered a special S'lichot service with S'lichot-themed activities & videos to enhance preparation for the upcoming Yamim Noraim (Days of Awe).
Beit HaLev, Seal Beach CA will be conducting High Holy Day services again this year.
Rabbi Galit Levy-Slater will lead all services for the Leisure World community and will also be live-streaming to the global community and Facebook as well as videoing services for the local community. Rabbi Galit says, "At Beit HaLev there is "No pay to Pray!"
Rabbi Daniel Betzel of Ohio will be working, studying, and volunteering in Israel over the HHD's. His home base will be Kibbutz Mashabe Sedeah which is located South of Beersheva in the Negev Desert.
Share the High Holidays with these and other Union of Jewish Universalist Communities (http://www.ujuc.org)
About Sim Shalom
Sim Shalom is an interactive online Jewish Universalist synagogue which is liberal in thought and traditional in liturgy. Created in 2009 by Rabbi Steven Blane on Manhattan's Upper West Side, Sim Shalom offers a means of connecting the unconnected. Rabbi Blane leads accessible and short Shabbat services every Friday night using a virtual interface and additionally Sim Shalom provides online education programs, Jazz concerts, conversion and life-cycle ceremonies along with weeknight services at 7:00PM EST led by Rabbis and students of this online community.
Rabbi Blane is also the founder and director of the Jewish Spiritual Leader's Institute,
http://www.jsli.net, the online professional rabbinical program.
Sim Shalom, a non profit 501 © (3) tax-exempt organization, nurtures a Jewish connection through its mission of innovative services, creative education and dynamic outreach to the global community.