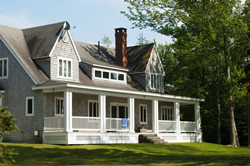 "Invest, get a return, but serve, is their business motto. 'Within our society, there's always been a need, and this is the way to do it,' said Frank Candelario. Training is now available to students nationwide at the Shared Housing Academy at a discounted amount."
TEMPE, Ariz. (PRWEB) February 05, 2021
SHARED HOUSING -- With 70 million Americans facing housing challenges, investors are learning how to meet the demand and make significant returns on their investment.
Shared Housing Academy is training potential business owners on how to start group homes.
Instructors Frank and Sherri Candelario own 6 group homes in Seattle, Washington, called Kate's House.
They are conducting a free training webinar on February 10th and a discounted 3-day virtual training from February 19th-21st.
The two experts are using their experience to teach others their proven business model for success.
"In addition to the previously existing housing crisis, 11-million people have also been affected by the pandemic," said Sherri Candelario.
As a result, they've designed a unique investment curriculum for shared housing opportunities. This roadmap helps students through the process of purchasing a home, gaining certification, helping marginalized people, and receiving a return on investment.
The Shared Housing Academy business formula shows students how to access a pot of government funding of over $29 billion.
Shared housing encompasses a variety of homes to include:

Veterans homes
Student housing
Recovery homes
Foster homes
Golden girls' and boys'
Special needs and autism
Temporary Workers
Transition from prison
Corporate housing
Shared journey of any kind
Working-class people have already started registering for the upcoming sessions with hopes of learning how to double and triple their work wages with passive income.
"Invest, get a return, but serve," is their business motto.
"Within our society, there's always been a need, and this is the way to do it," said Frank Candelario.
Virtual training is now available to students nationwide at the Shared Housing Academy, with discounted courses available for newcomers posted online.
REGISTER TO GO:
WEBINAR
Wednesday, February 10th, 2021
http://www.SharedHousingAcademy.com
OR
3-DAY DISCOUNTED VIRTUAL TRAINING
February 19-21, 2021
Register at: http://www.SHA3DAY.com