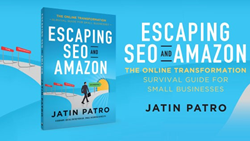 It takes a village to level the online playing field, and it starts with a book.
BEAVERTON, Ore. (PRWEB) May 21, 2019
Google, Amazon, and online technology trends in general are making it increasingly difficult for small, local, and independent businesses to compete in an online playing field where the bigger and established businesses are favored, and the needs of small businesses and their communities are sidelined.
Sen. Elizabeth Warren proposed breaking up Google and Amazon as a solution. Breaking up big businesses does not address the fact that small businesses are lacking the tools and resources to overcome their technology, time, and cost hurdles, or that in a consumer-driven economy breaking up Google and Amazon is insensitive to the consumer needs.
Easier access to technology and support will enable small businesses to compete more effectively online with their unique strengths. To become the default choice online, however, small businesses need the ability to band together online into their own search and shopping marketplaces that offer consumers greater choices and conveniences than Google and Amazon.
SharedMall is leading the charge with the deployment of the next generation online infrastructure that not only helps each small business overcome their individual online hurdles, but also brings their independent websites together in real-time, into any number of community-centric search and shopping alternatives to Google and Amazon.
"This system will enable the small business owner to hold his own by strengthening the position in community, offering access above national and international players", says Marc Blackwell, an American designer and the owner of a boutique cafe in downtown Seattle, who has first-hand experience as a small business owner trying to overcome the online challenges and threats.
Website and e-commerce platforms in general, including popular ones like WordPress and Shopify, lack the architecture to bring independent websites together into real-time online search and shopping marketplaces, leaving businesses in isolation online, in a landscape where search and shopping marketplaces are the consumer's preferred choice.
Anette Sarkissian, a Western clothing designer of 40+ years selling retail and wholesale primarily through her website at AnnNEve.com was frustrated with hyped-up promises from online platform and service providers, to the point that she was ready to quit, "until I found SharedMall", she says, adding, "SharedMall has adapted to my needs and has now become the backbone of my business and I'm excited about the future with SharedMall."
Innovation, standardization, and community are essential ingredients for leveling the online playing field. SharedMall is built on this foundation and is breaking away from the traditional mold that fosters monopolization, to one that enables each community to own its alternative to Google and Amazon and gives businesses better control over their online costs and growth prospects. The Online Transformation where small businesses, webmasters, shop local advocates, and community leaders collaborate in the true sense of a community towards a common online vision, is what will level the online playing field, and perhaps even tip it in favor of small businesses and local economies.
It takes a village to level the online playing field, and it starts with a book that addresses all perspectives and brings everybody on the same page. Escaping SEO and Amazon, an Amazon bestseller, provides the foundation for this future and serves as an easy read non-technical guide for audiences of all business backgrounds, to gain a common understanding of the "why" (change is needed) and to put the focus on "how" (to implement the change).
Marji Graf, President and CEO of the Rockville chamber of commerce in Maryland has witnessed the constant struggles of many small businesses over the years in her career as a small business advocate. She believes in the future prescribed by SharedMall, is leading the conversation in Rockville, and has this to say to her peers at other chambers of commerce, "we can implement this technology in all chambers to benefit all small businesses"
Google is the standard for search engines, Amazon is the standard for marketplaces, and SharedMall is defining the standard for the next generation website, shopping cart, and community-sensitive search and shopping marketplaces.
It's a future where the overhead of SEO is no longer required, Amazon's growth is no longer a threat to small businesses and local economies, and community leaders are better equipped to counter current and future online threats.