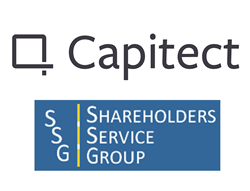 SSG is known throughout the industry as a platform for forward-thinking advisors, and our advisor productivity and client experience solutions will complement that approach.
LOS ANGELES (PRWEB) April 24, 2019
Capitect, an innovative advisor technology platform, and Shareholders Service Group (SSG) announced today a partnership where Capitect will provide client portal and performance reporting technology to the 1,600 Independent RIAs working with SSG. The RIAs will be able to access Capitect's leading technology as part of their custodial relationship with SSG, which includes Capitect's solution for portfolio reporting for performance and asset allocation, client portal, client fee billing, and account aggregation. Additionally, Capitect's cutting edge personalized portfolio construction and rebalancing tools will also be available to advisors working with SSG in the coming months.
"We are excited to partner with SSG to deliver a powerful technology solution for the Independent RIAs using their platform," said Edwin Choi, CEO of Capitect. "SSG is known throughout the industry as a platform for forward-thinking advisors, and our advisor productivity and client experience solutions will complement that approach."
"Independent RIAs working with SSG look to us to provide them with the tools, technology and services they need to continue to profitably grow their businesses," said Dan Skiles, President of SSG. "This new relationship with Capitect further supports these goals as well as helping advisors better compete in the marketplace."
Capitect's solution provides up-to-date portfolio reporting designed for online and mobile access for both advisors and their clients, without the need for paper documents or pdf files. Capitect's holistic reporting enables advisors to be able to report and bill on both advisor-managed and held-away assets in an automated fashion, saving time and increasing revenues.
Capitect will be exhibiting and demonstrating its solutions at the annual SSG Conference, to be held April 24-26, 2019 in San Diego at the Hilton Torrey Pines resort, as well as hosting webinars for SSG advisors to help them get up and running quickly.
To learn more about Capitect, log onto http://www.capitect.com
About Capitect
Founded by a successful advisor, the Capitect platform provides a technology solution to streamline the performance reporting, client billing, and portfolio rebalancing processes through advanced engineering and innovative design. Capitect's reporting solution is holistic, automated, and mobile-friendly to meet the demands of today's clients. Going above and beyond simple model portfolios, Capitect enables advisors to deliver personalized portfolios unique to each client's circumstances, goals and objectives using the advisors' own investment strategies. Capitect's complete rebalancing solution includes portfolio construction tools that allow for "infinite drill down" and customization and ongoing rebalancing technology and services. Embraced by leading advisors and integrated with the industry's leading custodians and technology applications, Capitect's sophisticated technology is disrupting traditional portfolio management approaches. To learn more, visit us at http://www.capitect.com.
About Shareholders Service Group
Shareholders Service Group (SSG), http://www.ssginstitutional.com, provides brokerage and custodial services exclusively for independent registered investment advisors (RIAs). SSG provides a full range of brokerage and back office service and support with a robust technology platform, access to a full suite of investment vehicles, and a highly experienced service team that only serves independent RIAs. The company was founded in 2002, and currently serves approximately 1,600 advisory firms throughout the country. The management team began serving independent RIAs in the 1980s. More information is available at https://www.ssginstitutional.com.