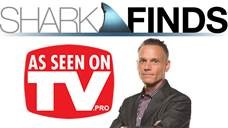 Our Belly Bands have been used successfully to help thousands of rescue dogs become housebroken in their new homes, enabling them to stay with their new families. Belly Bands Owner, Lisa Puskas
St. Petersburg, FL (PRWEB) February 06, 2016
Shark Finds and Kevin Harrington, along with the Product Managers of AsSeenOnTV.pro are pleased to announce the launch of a new DRTV campaign with Belly Bands.
Having a dog is great—except when it wets every couch, bed, and rug. If having tried everything from sprays to puppy pads and find nothing works, get Belly Bands, the easiest way to stop dogs from wetting on carpets and furniture. Available for purchase in both boy and girl patterns, Belly Bands not only prevent incontinence, accidents, and territorial marking, it also helps trains the dog to stop wetting.
Next time the dog goes to tinkle, the Belly Band will absorb the wetness with a waterproof liner that prevents any leaks. Since no dog likes to wet themselves, the Belly Bands are a constant reminder not to go to the bathroom in the house and will prevent the dog from leaving urine stains on carpets and furniture. With Belly Bands, man's best friend can be a part of the family again, and no one has to spend days cleaning stains, and cash replacing carpets in the home.
"Belly Bands is very excited to be working with AsSeenOnTV.pro and Kevin Harrington to help spread the word about our product, which is especially beneficial to rescue dogs," said Belly Bands Owner, Lisa Puskas. "Our Belly Bands have been used successfully to help thousands of rescue dogs become housebroken in their new homes, enabling them to stay with their new families."
As part of its DRTV campaign with AsSeenOnTV.pro, Belly Bands will be appearing in 30 and 60 second spots set to air nationwide and feature the original Shark himself, Kevin Harrington. AsSeenOnTV.pro is comprised of an award-winning team of producers, writers, videographers, and editors as well as industry veterans dedicated to finding the latest, most innovative products and ideas, and putting them on the DRTV map. For more information on Belly Bands, please visit http://www.bellybands.tv.
About Kevin Harrington
As the inventor of the infomercial, founder of As Seen on TV, and one of the original Sharks on Shark Tank, Kevin Harrington has worked with some of the world's biggest celebrities and launched some of the best-selling DRTV campaigns in history. Since producing his first 30-minute infomercial in 1984, Harrington has been involved in over 500 product launches that have resulted in over $4 billion in sales. Now, in his latest venture, Harrington is on the hunt for the best new products and ideas, and brings them to homes everywhere through personalized DRTV campaigns featuring the Shark.
About AsSeenOnTV.pro
Headquartered in Florida, AsSeenOnTV.pro is a full-service production, branding, and marketing company specializing in highly visible campaigns in direct response television.
About Shark Finds
The Shark Finds creative team guides these spots from script phase to screen-ready stage to final airing. The Shark Finds team has produced millions of dollars worth of broadcast placements in just over two decades, with the help of their regional and national relationships.