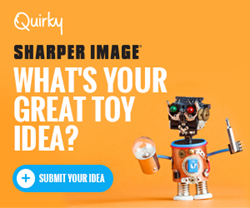 "We love working with inventors and are constantly inspired by their leading edge thinking and seemingly unlimited creativity," says David Conn, CEO ThreeSixty Brands.
NEW YORK (PRWEB) October 18, 2018
This week Sharper Image, in partnership with the world's largest inventor community, Quirky, has launched an open invitation for inventors to submit new innovative toy ideas as part of the Sharper Image Toy & Game Invention Challenge.
For decades, Sharper Image has brought to market the world's most innovative toys and games such as; Spinning Stunt RC Cars, Virtual Reality HD Drones, and Remote-Control Boxing Robots. Today, the brand synonymous with innovation and creativity is inviting inventors and ideators with unique new products for play to submit their concepts on Quirky.com for a chance to see their idea become a real product.
"It's every inventor's dream to work with a brand like Sharper Image," says Gina Waldhorn, President of Quirky. Waldhorn says to date the platform has received tens of thousands of toy and game ideas, and it's one of the most passionate categories for inventors. With the Sharper Image Challenge the community is now getting a chance to channel their creativity towards building the next great product for one of the most recognizable brands in the world.
"We love working with inventors and are constantly inspired by their leading edge thinking and seemingly unlimited creativity" says David Conn, CEO ThreeSixty Brands. While open to any and all toy and game ideas, Sharper Image is excited to see how inventors integrate new technologies like AR/VR into classic favorite toys, and how they might advance their already impressive portfolio of remote-controlled products. Tabletop games, indoor play items, and gifting products are also on the top of the list for the challenge.
The challenge is open from today until November 18th. You can learn more and enter at Quirky.com.
About Quirky:
Founded in 2009 with a mission to "make invention accessible," Quirky brings new products to market by connecting a global community of inventors to established manufacturers. At the nexus of technology-enabled cultural trends like the maker movement, community creativity and the demand for meaningful product backstories, Quirky has challenged the status quo of invention to become a major force in the product development landscape. Quirky has launched more than 150 products across categories including electronics, home and kitchen, and more than 1 million active community members share in the product royalties.
About ThreeSixty Group:
ThreeSixty Group, originally known as MerchSource, was founded in Southern California in 1999. Today, ThreeSixty designs, sources and distributes consumer products across diverse categories under a portfolio of owned and licensed brands. The Company produces curated merchandise programs that it distributes to major retailers across almost every retail channel in the U.S., representing over 70,000 retail stores. In 2015, ThreeSixty received a majority investment from AEA Investors LP, one of the oldest private equity firms in the U.S. In October 2016, ThreeSixty acquired FAO Schwarz, an iconic brand that, since its founding in 1862, has been synonymous with quality and innovation, creating cherished memories for generations of children.