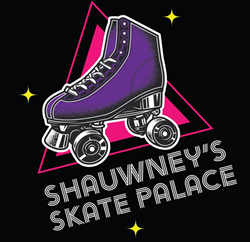 "Frederick is also welcoming of all people: all denominations, all races. This is a community thatis open to change, open to diversity and inclusion." - Shauwney Anderson
FREDERICK, Md. (PRWEB) July 30, 2020
Shauwney's Skate Palace, LLC, Frederick Maryland- LLC filed and sealed with Frederick, Md, County Clerk's office. African American woman in Frederick is working to bring Roller Skating back to the city of Frederick - Local family to bring back old fashioned roller skating not only as a beloved pastime but a way to get active and socialize. It's the sport that has been around since the 1800's that always seems to find a way to re-invent itself. That is because roller skating has excellent health benefits, and is something that potentially the whole family can enjoy together. Family togetherness has become a thing of the past unfortunately, it is time that we get back to/promote what really matters - family.
Frederick is also welcoming of all people: all denominations, all races. This is a community that is open to change, open to diversity and inclusion. This will also provide a safe and fun environment for children, teens, and adults alike. We NEED this now more than ever. Roller skating is also generational. We need to continue to pass the torch on this much needed activity that so many forget about, simply because it's not accessible.
Being a minority business owner may bring with it some expected hurdles that we will need to jump. We want to be able to avoid as many of those as possible by bringing our own funding to the table up front. The closest roller-skating rinks are 30 miles to the north; or over 50 miles south of Frederick. Our area needs more varieties of entertainment that not only is fun, but is closer to home.
We need to raise an additional $250,000. We ask that the community donate to our fund any amount that you can, NO AMOUNT IS TOO SMALL. We have 3 raffles, one of which you can win a free pair of roller skates. Next, Joe Corbi's gourmet is helping with pizza fundraising, and candy baskets are for sale if you would rather give something and get something in return. Help spread the word and donate if you can. Listen to our radio interview on WFMD.
What will Shauwney's Skate Palace offer?
Our rink will have both quad and inline skating, birthday party planning, snack bar with specialty
items, group rates, STEM, arcade and soft play areas, miniature golf, skating lessons for beginners, special skate theme nights, all-night skates, summer skating camps, yoga/Zumba classes in off-season, silent skate nights, autism awareness, a separate skating area for beginners, among many other fun activities for children. There is a plan to have pool tables, an adult lounge, and many other exciting amenities!
Please show your support by donating to our cause. ALL proceeds will go towards the various start-up costs associated with opening Shauwney's Skate Palace - a roller skating rink/family entertainment center in Frederick, MD. Check out our GoFundMe: gf.me/u/yb4z6v or Ifundwomen page: https://ifundwomen.com/projects/keep-roller-skating-alive. We thank you for your support!