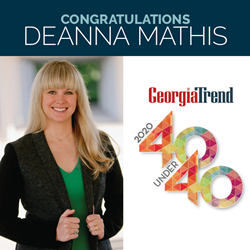 Georgia Trend naming Deanna to their 40 under 40 confirms what we already know of her passion and commitment to create a better future for our company and for the Dalton community at large. - Susan Farris, VP Corporate Communications and Sustainability
DALTON, Ga. (PRWEB) October 01, 2020
Shaw Industries Group, Inc.'s (Shaw) Director of Community Outreach and Corporate Giving Deanna Mathis has been recognized as a leader in Georgia, being named to Georgia Trend Magazine's 40 Under 40 List for 2020.
Each year Georgia Trend honors 40 of the state's best and brightest under the age of 40. The ideal candidate is someone who is successful in his or her profession and is passionate about community service. This is the 24th year that the publication has showcased young achievers in business, government, politics, education and nonprofits.
"I am deeply honored to be counted among Georgia Trend Magazine's 40 under 40 this year," says Mathis. "I have had the privilege to meet and interact with other strong and passionate community leaders from across our great state, and credit Shaw with opening the door to many of those opportunities. It feels good to work for a company that supports my passion for giving back to the community."
Deanna is a Dalton native known as a "passionate ambassador" for the power of community, particularly the City of Dalton. After graduating from Georgia Tech, she chose to return home to play a role in revitalizing the city. In addition to leading Shaw's community outreach and corporate giving efforts, she and some other like minded individuals followed their entrepreneurial passion and established the Dalton Brewing Company. The small business has played a key role in helping to breathe new life into the downtown Dalton community leading to more people spending their time and dollars downtown.
"We couldn't be more proud for Deanna Mathis to receive this honor," says Susan Farris, vice president of communications and sustainability. "Georgia Trend naming her to their 40 under 40 confirms what we already know of her passion and commitment to create a better future for our company and for the Dalton community at large."
For more information, please visit georgiatrend.com to read the official announcement honoring all of this year's winners.
About Shaw Industries
Shaw Industries Group, Inc. is more than a flooring company – we are more than 20,000 people united in our vision of creating a better future for our customers, for our people, for our community and for our company. We provide carpet, resilient, hardwood, tile & stone, laminate, synthetic turf and other specialty items for residential and commercial markets worldwide. We meet diverse customer needs through an expansive portfolio of brands, including: Anderson Tuftex, COREtec, Patcraft, Philadelphia Commercial, Shaw Contract, Shaw Floors, Shaw Sports Turf, Southwest Greens, USFloors and more.
Headquartered in Dalton, Georgia, Shaw is a wholly owned subsidiary of Berkshire Hathaway with more than $6 billion in annual revenue and representation throughout the U.S., as well as in Australia, Belgium, Brazil, Canada, Chile, China, France, India, Mexico, Singapore, United Arab Emirates, and the United Kingdom. For more information about our company brands, operations and community involvement, or to join our industry-leading team, visit http://www.shawinc.com.
About Georgia Trend Magazine
Georgia Trend, the magazine of Georgia business, politics and economic development since 1985, is the only statewide business publication in the market. Georgia Trend is published once a month with two extra issues: Business Georgia and Small Business Guide. It is delivered to more than 50,000 subscribers and has become indispensable to the leaders that shape our state. Continued investments in GeorgiaTrend.com and Georgia Trend Daily have made them equally valuable resources.
Georgia Trend has won numerous national and regional awards for journalistic excellence, including the prestigious Green Eyeshade Award, as well as awards from the Magazine Association of the Southeast (MAGS) and the Alliance of Area Business Publications (AABP).
# # #