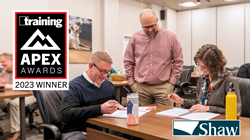 "Shaw associates are empowered to manage their career paths by utilizing the extensive training tools we provide because we know that innovation and a better future grow from learning and development." - Rhett Smith, Director of Learning & Organizational Development
DALTON, Ga. (PRWEB) February 15, 2023
Shaw Industries Group, Inc. (Shaw) has been named a 2023 Training APEX Award winner by Training magazine. Once again ranked as the highest flooring manufacturer on the list, Shaw creates an environment where associates can pursue their passions through a wide range of career disciplines and gives them the tools and resources to succeed.
This marks Shaw's 19th consecutive year on this list, largely attributed to the company's focus on being clear and transparent about the knowledge, experience, competencies and personal attributes critical for each position which allows associates to target training opportunities aligned with long-term personal and business goals.
"Shaw associates are empowered to manage their career paths by utilizing the extensive training tools we provide because we know that innovation and a better future grow from learning and development," said Rhett Smith, director of learning & organizational development. "We invest in our people and their growth because we are relentlessly focused on being a learning organization for the benefit of our people, customers and communities. It is an honor to be recognized with the Training APEX Award."
Training APEX, formerly Training Top 100, ranks companies' commitment to and success with employer-sponsored training and development programs. The 2023 Training APEX ranking is determined by assessing a range of qualitative and quantitative factors, including training investment, scope of training programs provided and how closely development efforts are linked to business goals and objectives.
"We salute these best-in-class organizations for their ability to consistently and agilely deliver stellar training in an ever-changing world while providing a culture that allows their people to grow and thrive at work." says Lorri Freifeld, Training magazine editor-in-chief.
Shaw remains committed to being a learning organization and has structured its world-class learning and development offerings to be accessible to all of its more than 20,000 associates across the world through virtual and in-person offerings. Last year, Shaw associates completed more than 1-million hours of training courses. The company's dedication to knowledge has catalyzed innovation, empowered associates to grow their careers and resulted in an enhanced customer experience.
To learn about opportunities at Shaw Industries, visit https://careers.shawinc.com/us/en.
ABOUT SHAW
Shaw Industries Group, Inc. supplies carpet, resilient, hardwood, laminate, tile and stone, synthetic turf, and other specialty products to residential and commercial markets worldwide. The company meets its diverse customer needs through an expansive portfolio of brands, including: Anderson Tuftex, COREtec, Patcraft, Philadelphia Commercial, Shaw Contract, Shaw Floors, Shaw Sports Turf, Shawgrass, Southwest Greens and more.
Shaw is a wholly owned subsidiary of Berkshire Hathaway, Inc. with more than $7 billion in annual revenue and more than 20,000 associates worldwide. Headquartered in Dalton, Ga., Shaw has salespeople and/or offices located throughout the U.S. as well as Australia, Belgium, Brazil, Canada, Chile, China, France, India, Mexico, Singapore, United Arab Emirates, the United Kingdom and Vietnam. Visit http://www.shawinc.com for more information.
ABOUT TRAINING
Training magazine is the leading business publication for learning and development and HR professionals. It has been the ultimate resource for innovative learning and development—in print, in person, and online—over the last 50-plus years. Training magazine and Training magazine Events are produced by Lakewood Media Group. For more information about Training magazine, please visit: http://www.trainingmag.com.
# # #