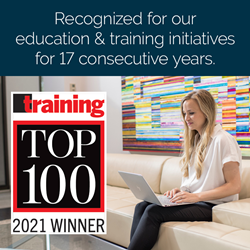 This recognition solidifies our dedication to attracting and retaining the best possible talent with a world-class associate experience that can skillfully adapt to ever-shifting market dynamics.- Torrance Ford, Vice President of Talent Management
DALTON, Ga. (PRWEB) February 09, 2021
Shaw Industries Group, Inc. (Shaw) has been named a Training magazine 2021 Training Top 100 company for its commitment to comprehensive training, diversity and inclusion, and workforce development to empower its associates across the organization. Training Top 100 Award winners include companies across the globe with the most successful learning and development programs, a challenge that took on several new forms in 2020. This marks the 17th consecutive year Shaw has been recognized.
Training Top 100, formerly Training Top 125, ranks companies' commitment to and success with employer-sponsored training and development programs. The 2021 Top 100 ranking is determined by assessing a range of qualitative and quantitative factors, including training investment, scope of training programs provided and how closely development efforts are linked to business goals and objectives.
"We salute these best-in-class organizations for their steadfast dedication to continuous employee learning and development; their agility and innovation in transforming their training delivery in response to the pandemic; and their passionate commitment to the current and future success of their people," says Training magazine Editor-in-Chief Lorri Freifeld.
Shaw's approach to training delivers content in a variety of ways to address multiple learning styles, a process that served the company well as it adjusted its approach during the pandemic. Comprehensive and customized educational programs were available both in-person and through various online modules and live virtual sessions. Shaw provides more than one million hours of education and training throughout the year to ensure that every associate has awareness, access, and opportunity for growth and development. The company further extends its training expertise to the community and its wide array of customers to support future workforce development and continuing education opportunities that foster mutual success. This recognition reflects Shaw's commitment to continuous learning and development tied to specific, measurable business goals with training focused on process improvements, innovation, diversity and inclusion, and relevant best practices, while also providing individual growth and development opportunities.
"I'm proud of our company's continued investment in our people as our greatest competitive advantage, especially during uncertain times," says Torrance Ford, Shaw's vice president of talent management. "This recognition solidifies our dedication to attracting and retaining the best possible talent with a world-class associate experience that can skillfully adapt to ever-shifting market dynamics."
About Shaw Industries
Shaw Industries Group, Inc. is more than a flooring company – we are more than 20,000 people united in our vision of creating a better future for our customers, for our people, for our community and for our company. We provide carpet, resilient, hardwood, tile & stone, laminate, synthetic turf and other specialty items for residential and commercial markets worldwide. We meet diverse customer needs through an expansive portfolio of brands, including: Anderson Tuftex, COREtec, Patcraft, Philadelphia Commercial, Shaw Contract, Shaw Floors, Shaw Sports Turf, Southwest Greens, USFloors and more.
Headquartered in Dalton, Georgia, Shaw is a wholly owned subsidiary of Berkshire Hathaway with more than $6 billion in annual revenue and representation throughout the U.S., as well as in Australia, Belgium, Brazil, Canada, Chile, China, France, India, Mexico, Singapore, United Arab Emirates, and the United Kingdom. For more information about our company brands, operations and community involvement, or to join our industry-leading team, visit http://www.shawinc.com.
About Training
Training magazine is the leading business publication for learning and development and HR professionals. It has been the ultimate resource for innovative learning and development—in print, in person, and online—over the last 50-plus years.Training magazine and Training magazine Events are produced by Lakewood Media Group. For more information about Training magazine, please visit: http://www.trainingmag.com..
# # #