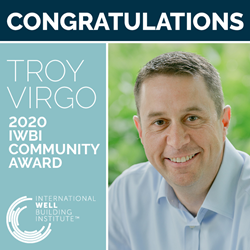 I'm inspired by IWBI's efforts, and honored to be recognized by an organization that shares Shaw's vision to put people at the heart of sustainability -- what we call sustain[HUMAN]ability. - Troy Virgo, Director of Sustainability
DALTON, Ga. (PRWEB) January 05, 2021
Troy Virgo, director of sustainability at Shaw Industries, has been selected by the International WELL Building Institute® (IWBI®) to receive a 2020 IWBI community award recognizing outstanding members of the WELL AP and WELL Faculty community. Virgo joins a group of honorees from around the globe who are leading the charge to revolutionize the way we think about our buildings, communities and organizations, and the impact they have on our health and quality of life.
Virgo has served as a member of IWBI's Materials Concept Advisory team since 2018, an advisory created to explore, better understand and, ultimately, more accurately quantify the impact of materials in the built environment.
"At IWBI, our movement is powered by those who are committed to better design, better policies and better spaces for people," said IWBI president and CEO Rachel Hodgdon. "Through continuous advocacy, engagement and initiative, these award recipients have played an influential role in the progress we make each day."
Over the years, WELL Faculty and WELL APs have worked hand in hand with companies and clients who have chosen to adopt IWBI's WELL Building Standard or WELL Health-Safety Rating programs, now spanning over 1.5 billion square feet across 65 countries. The 2020 award winners have played an instrumental role in WELL's progress through impactful engagement, feedback and support.
"WELL has brought tremendous attention to the impact buildings and spaces have on people," noted Virgo. "I'm inspired by IWBI's efforts, and honored to be recognized by an organization that shares Shaw's vision to put people at the heart of sustainability -- what we call sustain[HUMAN]ability."
About Shaw Industries
Shaw Industries Group, Inc. is more than a flooring company – we are more than 20,000 people united in our vision of creating a better future for our customers, for our people, for our community and for our company. We provide carpet, resilient, hardwood, tile & stone, laminate, synthetic turf and other specialty items for residential and commercial markets worldwide. We meet diverse customer needs through an expansive portfolio of brands, including: Anderson Tuftex, COREtec, Patcraft, Philadelphia Commercial, Shaw Contract, Shaw Floors, Shaw Sports Turf, Southwest Greens, and more.
Headquartered in Dalton, Georgia, Shaw is a wholly owned subsidiary of Berkshire Hathaway with more than $6 billion in annual revenue and representation throughout the U.S., as well as in Australia, Belgium, Brazil, Canada, Chile, China, France, India, Mexico, Singapore, United Arab Emirates, and the United Kingdom. For more information about our company brands, operations and community involvement, or to join our industry-leading team, visit http://www.shawinc.com.
About IWBI
The International WELL Building Institute (IWBI) is leading the global movement to help people thrive through better buildings and stronger organizations. The WELL v2 pilot is the recently launched version of its popular WELL Building Standard, and the WELL Community Standard pilot is a district scale rating system that sets a new global benchmark for healthy communities. WELL is focused exclusively on the ways that buildings and communities, and everything in them, can improve our comfort, drive better choices, and generally enhance, not compromise, our health and wellness. IWBI convenes and mobilizes the wellness community through management of the WELL AP credential, the pursuit of applicable research, the development of educational resources, and advocacy for policies that promote health and wellness everywhere. For more information about IWBI and WELL, please visit us here.
International WELL Building Institute, IWBI, the WELL Building Standard, WELL v2, WELL Certified, WELL AP, WELL and others, and their related logos are trademarks or certification marks of International WELL Building Institute pbc in the United States and other countries.
###