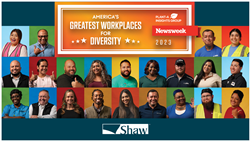 "Diversity in every form makes us stronger and results in better outcomes for our customers and communities."-Torrance Ford, VP of talent management, Shaw Industries
DALTON, Ga. (PRWEB) January 27, 2023
Shaw Industries Group Inc. (Shaw) has been named to America's Greatest Workplaces for Diversity 2023 by Newsweek.
With research conducted by Plant-A Insights, the study reviewed more than 350,000 employers to find the top 1,000 companies who employees report are fostering a diverse workplace.
"Shaw works to create an environment where our associates feel valued, respected and empowered to bring their whole selves to work. Diversity in every form makes us stronger and results in better outcomes for our customers and communities," said Torrance Ford, vice president of talent management, Shaw Industries. "And so, we are honored to be recognized in this way. But more importantly, we are humbled and energized to know that this ranking is informed by direct input from our associates."
Research included review of publicly available data, interviews with HR professionals and an anonymous online survey of a diverse pool of employees at companies with 1,000 or more employees in the U.S. Respondents were asked questions about corporate culture, working environment and other subjects at both their own companies and others they were familiar with.
"It is well-documented that workplaces filled with people with different worldviews are more creative, more innovative and generally make better decisions. Employing a wide variety of people who feel comfortable and respected isn't a desirable perk, it is simply good business," said Nancy Cooper, Newsweek global editor in chief.
Shaw is committed to fostering an inclusive and diverse company culture. This ranking reinforces the company's continued efforts through various initiatives to drive engagement and spark growth through inclusive leadership.
To learn more about Shaw's commitment to diversity and inclusion visit here: https://shawinc.com/Diversity.
ABOUT SHAW
Shaw Industries Group, Inc. supplies carpet, resilient, hardwood, laminate, tile and stone, synthetic turf, and other specialty products to residential and commercial markets worldwide. The company meets its diverse customer needs through an expansive portfolio of brands, including: Anderson Tuftex, COREtec, Patcraft, Philadelphia Commercial, Shaw Contract, Shaw Floors, Shaw Sports Turf, Shawgrass, Southwest Greens and more.
Shaw is a wholly owned subsidiary of Berkshire Hathaway, Inc. with more than $7 billion in annual revenue and more than 20,000 associates worldwide. Headquartered in Dalton, Ga., Shaw has salespeople and/or offices located throughout the U.S. as well as Australia, Belgium, Brazil, Canada, Chile, China, France, India, Mexico, Singapore, United Arab Emirates, the United Kingdom and Vietnam. Visit http://www.shawinc.com for more information.
# # #