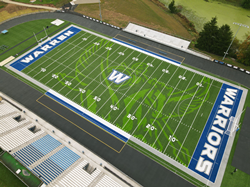 The STC Awards is a member program designed to honor members who help to promote the association's values and advance the synthetic turf industry.
CALHOUN, Ga. (PRWEB) November 07, 2022
The Synthetic Turf Council (STC) recently awarded its 2022 Sustainability and Innovator Awards to Shaw Sports Turf for its GAME ONTM technology and NXTPlay® performance shock pad.
GAME ON – the recipient of the Innovator Award – is a patented, proprietary technology that allows for enhanced design capabilities and increased performance. GAME ON offers a new approach for sports fields in which logos, lines, and numbers are tufted together in one run, limiting the number of seams in a field. Customers can let creativity lead the way by designing a field that elevates their brand. Outplay the competition on the field and with the field, GAME ON!
The Innovator Award recognizes an STC member company that has shown outstanding industry leadership through cutting-edge developments of products or processes that advance the synthetic turf industry to a new level of excellence.
Additionally, Shaw Sports Turf was honored with STC's 2022 Sustainability Award for its commitment to sustainability through reclamation and recycling. This award recognizes an STC member organization who consistently, and through innovation, utilizes sustainable materials and processes that work to minimize negative impact on the natural environment.
To date, Shaw Sports Turf has reclaimed more than 2,500 tons of artificial turf that would have otherwise gone to a landfill, resulting in 75,000 cubic yards of landfill space saved. Shaw Sports Turf has used that material to manufacture more than 3.5 million square feet of NXTPlay performance shock pad. NXTPlay performance shock pad along with Legion®, Momentum® and Powerblade® turf products have all been Cradle to Cradle Certified®.
The STC Awards is a member program designed to honor members who help to promote the association's values and advance the synthetic turf industry. For more information on the STC Awards, please visit http://www.syntheticturfcouncil.org/awards. Nomination for the sixth Annual STC Awards will open in early 2023.
About Shaw Sports Turf
A wholly owned subsidiary of Berkshire Hathaway Inc., Shaw Industries is a full flooring provider to the residential and commercial markets. Shaw supplies carpet, hardwood, laminate, resilient, and tile/ stone flooring products, as well as synthetic turf. Shaw Sports Turf, a division of Shaw Industries, is one of the leading synthetic turf companies in North America and has represented quality and innovation for more
than two decades with over 3,500 successful installations, including an impressive list of high-profile field installations. For more information, visit http://www.shawsportsturf.com, call 866-703-4004 or find the Shaw Sports Turf on Facebook, Twitter, Instagram and LinkedIn.
About the Synthetic Turf Council (STC)
The Synthetic Turf Council (STC) is a 501(c)6 non-profit trade association serving the synthetic turf industry. Its mission is to lead, educate and advocate for the synthetic turf industry. Founded in 2003, the STC assists buyers and end users with the selection, use and maintenance of synthetic turf systems in sports field, golf, municipal parks, airports, landscape and residential applications. It is a resource for current, credible, and independent research on the safety and environmental impact of synthetic turf, as well as technical guidance on the selection, installation, maintenance, and environmentally responsible disposal of synthetic turf. Membership includes builders, landscape architects, testing labs, maintenance providers, manufacturers, suppliers, installation contractors, infill material suppliers and other specialty service companies.