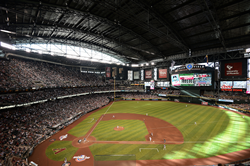 The stadium has seen a 90% drop in water consumption saving approximately two million gallons of water over the year.
CALHOUN, Ga. (PRWEB) April 22, 2020
Shaw Sports Turf is committed to sustainability and committed to helping our partners achieve their sustainability goals as well. Artificial turf provides a number of environmentally friendly benefits including water conservation. Additionally, there is no need for harsh chemicals like pesticides and fertilizers in the care of the surface.
Shaw Sports Turf's partner the Arizona Diamondbacks appreciated these details when they made the decision to switch from a natural to an artificial playing field. In 2019, the team installed Shaw Sports Turf's premium B1K system after having challenges in growing natural grass in their stadium. The stadium has seen a 90% drop in water consumption saving approximately two million gallons of water over the year. Energy savings have been experienced as well. Previously, the team would be required to open the retractable roof to give the natural grass sunlight, before game time the roof would be closed and the air conditioner cranked up to make the temperature in the stadium comfortable for fans. This is an exercise that is no longer necessary minimizing the stadium's carbon footprint.
In addition to the already mentioned sustainable benefits of installing Shaw Sports Turf, the Dbacks and others have opted to go with an environmentally friendly infill choice.
The Geofill® Performance Infill within the blades of the B1K system forms a firm surface similar to natural soil with lower energy rebound levels that mimic high-performance natural grass. The result is a more natural playing posture and motion from the players, creating less fatigue as their bodies will not have to overcompensate for the "bounciness" of the surface.
This infill is also right for those with a commitment to sustainability, as the Geofill infill is made from natural materials that are environmentally friendly. Geofill is made from mainly coconut husks and fibers. Coconuts are a rapidly renewable resource.
A great environmental infill alternative, GeoFill allows for clean water runoff, is 100% recyclable and is naturally resistant to mold and fungus. Engineered for traction and performance, GeoFill provides a stable surface for the athlete by preventing infill shifts and flyout, and excels in critical ball to surface interactions such as ball roll and ball bounce. GeoFill systems are naturally cooler due to the fact that the composition of materials holds in moisture.
ABOUT SHAW SPORTS TURF
A wholly-owned subsidiary of Berkshire Hathaway Inc., Shaw Industries is a full flooring provider to the residential and commercial markets. Shaw supplies carpet, hardwood, laminate, resilient, and tile/ stone flooring products, as well as synthetic turf. Shaw Sports Turf is one of the leading synthetic turf companies in North America and has represented quality and innovation for more than two decades with over 3,000 successful installations, including an impressive list of high-profile field installations. For more information please visit http://www.shawsportsturf.com, call 866-703-4004 or find us on Facebook, Twitter, LinkedIn and Instagram.
BATTING A THOUSAND and B1K are trademarks of Shaw Contract Flooring Services, Inc.
Geofill is a registered trademark of Italgreen SPA.